Apple's 'Wobbling' Home Screen Icons in iPhone 1.1.3
As further evidence to the authenticity of GearLive's leaked iPhone 1.1.3 firmware photos and videos that were leaked over the weekend, Hrmph.com dug up a patent application that was published in August of last year that clearly shows Apple describing how one might allow rearrangement of icons on a mobile device, and specifically describes varying the positions (wobbling) of the icons to indicate that the icons may be moved by the user.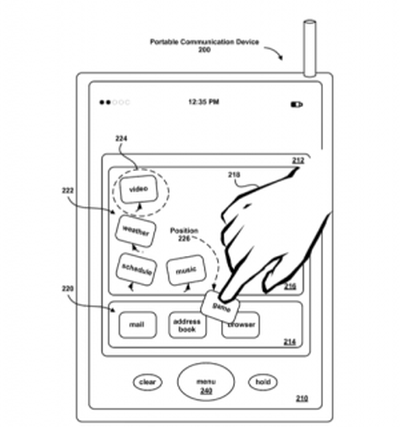 Hrmpf
compiled an
animated gif demonstrating
this wobbling effect, which looks identical to the 1.1.3 demo video. While it's certainly possible the images/video could simply be based on this patent application, it was not widely publicized at the time, and the description of wobbling icons is only obvious in retrospect.
One interesting description of the original patent application is that Apple suggested that icon movement could be elastic, allowing users to "throw" icons into the indended location.
Upon breaking contact with the touch-sensitive display, the respective icon may resume varying its position. In some embodiments, the respective icon can be thrown, so that the final position of the respective icon is different from the point at which the icon is released. In this embodiment, the final position can depend on a variety of factors, such as the speed of the throw, the parameters used in a simulated equation of motion for the throw (e.g., coefficient of friction), and/or the presence of a lay out grid with simulated attractive forces.
The leaked version of the firmware does not have this capability according to GearLive. The iPhone is currently at firmware version 1.1.2, and there's been no indication when 1.1.3 might be released.