Forum user photobiker notes an interesting pop-up that appears in certain situations in the iPhone's Safari browser. Holding and pressing in the margin of a webpage (near the edge of the screen) brings up a small pop-up titled "Action".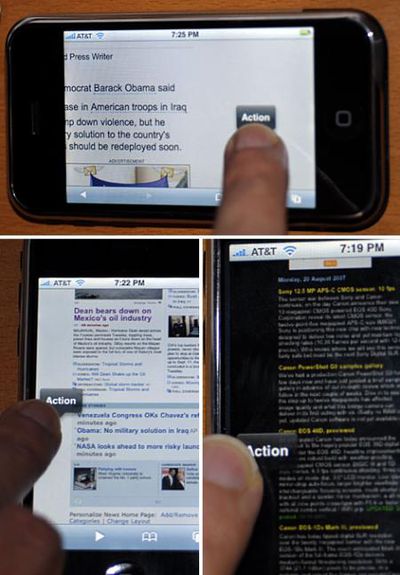 Steps to bring it up:
- Open Safari on the iPhone
- Visit a page with some margins, like most pages have (the pictures were taken with http://news.yahoo.com and http://dpreview.com)
- Tap-and-hold inside the margin, the screen is dimmed
- Hold your finger perfectly still for 2 seconds
- An "Action" popup menu appears
As far as can be seen, it doesn't quite do anything. Note that this shouldn't be confused with pressing-and-holding on links in Safari which has long been known to bring up the target of the link -- but could simply be a bug related to this known feature.