Are there any problems with the iPhone that we girls may face that the average male wouldnt? Do long fingernails, for example, interfere with the use of the iPhone's touch interface in any way? Lets find out.
I've been texting on the iPhone like mad ever since I got it. Texting is the easiest way to get in touch with most of my friends, so if it didnt work well with long fingernails, my nails would be gone, or at least shortened. And I do love my nails!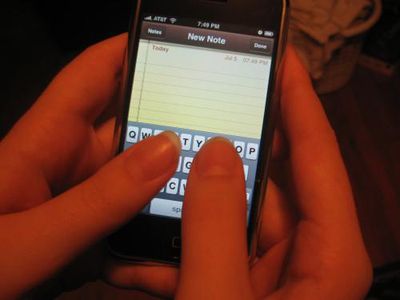 But long fingernails do not, in any way, interfere with the use of this phone. The angle at which the phone is usually held facilitates the pad of the finger coming into contact with the screen, you arent approaching it perpendicularly with your fingertip while typing.
Answer: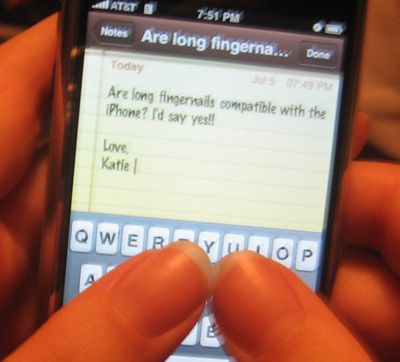 All other phone functions are pretty easy to do with fingernails, too. I usually attack buttons with the pad of my pointer finger. Only once have I had to tap on an application more than once, and I was approaching it from a strange angle--someone else was holding my iPhone.
In all, this is a fantastic interface with or without fingernails. Ive never used a touch-screen that was this accurate before. All other ones, especially on portable devices (Palm Pilots, my old Newton, my GPS, et al) have been less-than stellar. It takes an annoyingly long time to type out an address on my Mio C220 GPS. The touchscreen of the GPS unit can be frustrating at times, having to repeatedly click on the same button several times to get it to register, while the iPhone does it the first time.
Multi-touch on the iPhone is fantastic.