MacBook Battery Fire
Apple's laptop batteries are once again feeling heat after one MacBook owner's laptop caught fire, apparently stemming from the battery.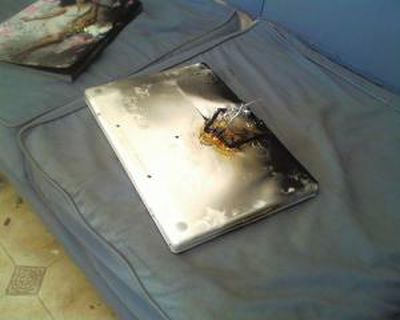 As I was running I saw a fire. At first I thought that the lamp had fallen and set fire to the curtain. As I got closer I realised it was my mac book .... burning! I picked it up and blew on it and swung it around to put the flames out. The book shelf it was sitting on was burnt and there were a couple of magazines that were on fire too.
According to the user, the laptop was charging at the time but not in use (asleep with lid shut). Last summer, multiple PC vendors (including Apple) issued massive battery recalls due to defective Sony-made batteries. The recalls prompted Apple, Dell, and Lenovo to hold a summit to develop Li-Ion battery standards.
Apple has historically used Li-Ion batteries in its iBook and PowerBook laptops, but has opted for Lithium Polymer batteries (Li-Poly) in its MacBook and MacBook Pro computers. One of the supposed advantages of Li-Poly batteries is reduced combustibility.
While the incident is certainly disturbing, it is unknown how widespread the issue is. Currently, there are no safety recalls affecting the MacBook or MacBook Pro, and Apple has yet to respond to the incident.