Leopard iChat Answering Machine
The latest build of Leopard (9A321) released yesterday introduces a new feature that has not been described by Apple as a new feature in Mac OS X 10.5's iChat.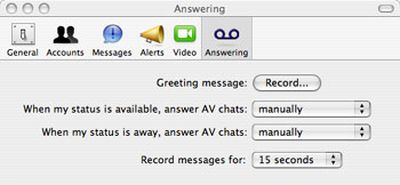 The new iChat answering preference tab allows users to record a Video greeting to serve as an answering message when users are away from their desk. The caller may then leave a message. At this time, there only appears to be partial functionality implemented.
The ability to record video-clips has previously been suggested as a tie in to the iPhone to provide a "call ahead" feature.