Mac Pro Buyer's Guide: Comparing the Generations
With the launch of the new Mac Pro, Apple has finally completed the transition to Apple silicon across the entire Mac lineup. Over the past decade, Apple has only released three new Mac Pros and the latest version starts at $6,999 – the highest starting price of any ‌Mac Pro‌ model to date – making it all the more important to consider if now is a good time to upgrade or even if an older model will suffice for your needs.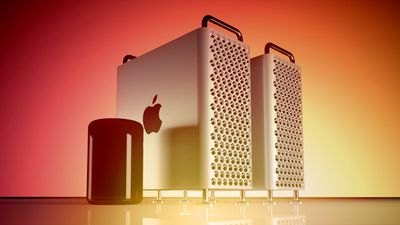 The 2023 Mac Pro is the first of its kind to feature Apple silicon and all previous models had Intel processors. While the machine loses support for eGPUs, it is around twice as powerful as the previous top-tier ‌Mac Pro‌ while maintaining a mostly modular design with seven PCIe slots. Even so, some first-time ‌Mac Pro‌ customers or users of the 2013 model may be able to obtain a 2019 ‌Mac Pro‌ second-hand or from a third-party retailer for a substantially lower price, so it will be important to weigh up exactly what was added with each new version of the machine.
See the breakdown below for each new feature, change, and improvement that was added with each ‌Mac Pro‌ compared to its direct predecessor:
Mac Pro (Apple silicon Tower, 2023)
Apple M2 Ultra chip
24-core CPU
Up to 76-core GPU
Up to 192GB unified memory
Non-upgradeable memory
Dedicated media engine for hardware-accelerated H.264, HEVC, ProRes, and ProRes RAW with two video decode engines, four video encode engines, and four ProRes encode and decode engines
32-core Neural Engine
Seven PCI Express expansion slots
Eight Thunderbolt 4 (USB-C) ports
Three USB-A ports
3.5 mm headphone jack with advanced support for high-impedance headphones
HDMI 2.1 port with support for multichannel audio output
Support for up to eight 4K displays, six 6K displays, or three 8K displays
802.11ax Wi-Fi 6E
Bluetooth 5.3
Weighs 37.2 pounds (16.86 kg) as tower or 37.9 pounds (17.21 kg) as rack
Starts at $6,999
Mac Pro (Intel Tower, 2019)
Silver tower design with lattice pattern and three impeller fans
Intel Xeon W processor
Up to 28-core CPU
Up to AMD Radeon Pro W6800X Duo GPU with 120 total compute units
Up to 1.5TB memory
Up to 8TB storage
Eight PCI Express expansion slots
Up to 12 Thunderbolt 3 (USB-C) ports
Two USB 3 ports
Dual 10 Gb Ethernet
Up to two HDMI 2.0 ports
Support for up to 12 4K displays, six 5K displays, or six Pro Display XDRs
Bluetooth 5.0
Weighs 39.7 pounds (18.0 kg) as tower or 38.8 pounds (17.6 kg) as rack
Started at $5,999
Mac Pro (Intel Cylinder, 2013)
Space Black cylindrical design with thermal core, single impeller fan, and illuminated ports
Intel Xeon E5 processor
Up to 12-core CPU
Up to Dual AMD FirePro D700 GPU with 64 total compute units
Up to 64GB memory
User-upgradeable memory
Up to 1TB storage
Six Thunderbolt 2 ports
Four USB 3 ports
Dual Gigabit Ethernet
3.5 mm headphone jack
HDMI 1.4 Ultra HD port
Support for up to three dual-cable 5K displays or six Thunderbolt displays
802.11ac Wi-Fi 5
Bluetooth 4.0
Weighs 11 pounds (4.9 kg)
Started at $2,999
Upgrade to the 2023 Mac Pro?
In most workflows, the ‌M2‌ Ultra chip should offer a massive performance improvement over the Intel Xeon W processors offered in the 2019 ‌Mac Pro‌, especially in CPU-intensive tasks. Early benchmarks indicate that it delivers around two-times faster overall CPU performance than the fastest Intel-based ‌Mac Pro‌ with a 28-core Xeon W processor.
For machine learning processes, the 2023 ‌Mac Pro‌ has a significant advantage with the ‌M2‌ Ultra's 32-core Neural Engine. Likewise, its dedicated media engine offers considerable benefits in video editing workflows.
The new ‌Mac Pro‌ can support 8K external displays for the first time. It also has newer Wi-Fi and Bluetooth specifications, as well as two USB-A ports and support for high-impedance headphones.
If you're looking for a high-end, future-proof machine that harnesses the best available performance with Apple silicon, as well as its more modern specifications, it will be worth opting for the new ‌Mac Pro‌.
...Or Stick With the 2019 Mac Pro?
Not all 2013 or 2019 ‌Mac Pro‌ users should upgrade to the 2023 model. Most notably, the 2019 ‌Mac Pro‌ features an Intel chip. While support for Apple silicon is now much better in professional workflows than it was upon its launch in 2020, some niche applications and legacy software may still work better on an Intel architecture. Likewise, some users may wish to dual-boot Windows via Boot Camp and this is not possible on the new ‌Mac Pro‌.
If you require support for additional graphics cards, only Intel-based Macs can support this. This means the new ‌Mac Pro‌'s PCIe slots are only useful for things like digital signal processing (DSP) cards, serial digital interface (SDI) I/O cards, additional networking, and built-in storage, so if you need eGPUs, the 2019 ‌Mac Pro‌ is still your best option.
The new ‌Mac Pro‌ maxes out at 192GB of memory. The previous model supported eight times this amount, so if you need vast amounts of memory, the 2019 model is still better for your purposes. Similarly, the 2019 model's memory is user-upgradeable. The 2019 ‌Mac Pro‌ supports four more 4K displays than the 2023 model and it also has four more Thunderbolt ports, which may be important considerations for some users.
Hence, for the right price, the 2019 ‌Mac Pro‌ may still be better for some users. That being said, it is important to bear in mind that Apple has now moved away from Intel-based machines entirely. At some point in the future, Intel-based Macs are likely to lose support for the latest version of macOS, so if you are a user that specifically needs 2019 ‌Mac Pro‌ features like eGPU support or an Intel architecture, the 2019 ‌Mac Pro‌ may only be able to help out for so long and it may be important to look at bigger changes to support your workflow in the long term.

The 2013 ‌Mac Pro‌ only supports updates up to macOS 12 Monterey, meaning it misses out on all of the new features added in macOS Ventura and macOS Sonoma. Those still using the 2013 ‌Mac Pro‌ should definitely consider upgrading, and both the 2019 or 2023 ‌Mac Pro‌ models are viable options. Alternatively, if you have got used to the 2013 ‌Mac Pro‌'s lack of PCIe slots and reliance on wired peripherals, the Mac Studio may be a better option, starting at just $1,999.