New Mac Studio and Mac Pro Support Up to Eight 4K Displays, Mac Pro Works With These PCI Cards
In a pair of support documents, Apple has listed various external display combinations that can be used with the new Mac Studio and Mac Pro. For example, both Macs support up to eight 4K displays at 60Hz when configured with the M2 Ultra chip.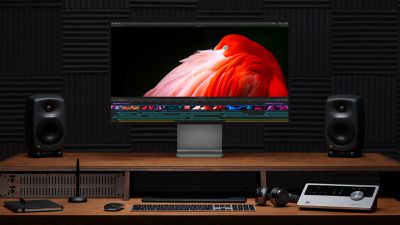 The new Mac Studio has an HDMI 2.1 port, and the new Mac Pro has two. These ports each support an 8K display at 60Hz, or a 4K display at 240Hz. Apple says the M2 Ultra chip also supports up to six Pro Display XDRs.
The previous Mac Studio supported up to five external displays when configured with the M1 Ultra chip, so the new model supporting up to eight is a considerable improvement. Apple silicon has come a long way in this area since the first Macs with the M1 chip were released in 2020 with native support for only a single external display.
Apple has also published support documents explaining how to install PCIe cards in the Mac Pro and listing compatible types of PCIe cards. Unlike the Intel-based Mac Pro, the new model does not support graphics cards due to Apple silicon's unified architecture.
The new Mac Studio and Mac Pro launched today after pre-orders began last week.