ZENS' Apple Watch Power Bank is a compact Apple Watch charging solution that's one of the first to come with a built-in Apple Watch charging puck, eliminating the need for bulky, complicated cable winding systems used in other Apple Watch stands and docks.
Because the charging puck is included in the body of the Power Bank, it's one of the smallest Apple Watch charging options available, and with an included 1,300 mAh battery, it serves as the most portable Apple Watch charger available for travelers.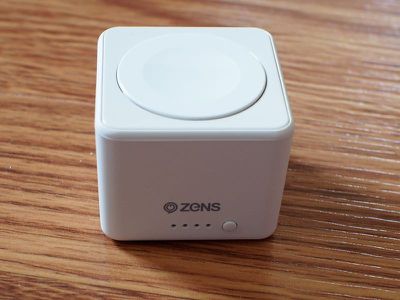 The Power Bank is cube shaped, measuring in at about an inch and a half wide and just over an inch tall. It's small enough to fit in jacket pocket (it'll fit in a pants pocket too, but the shape is bulky) and it doesn't take up a lot of room in a purse or a backpack.

Available in either black or white, the Power Bank is made from a smooth, velvety plastic. It is Apple-certified and uses Apple-approved parts, so despite the Power Bank's small size, ZENS is charging $56 for the accessory. That's competitive with many other Apple Watch stands and docks, but may be more than some are willing to pay for a small plastic cube.


On one side, there's an Apple Watch charger, while another side houses four LEDs that display the remaining battery life and a button to activate charging when the Apple Watch is placed on top of the Power Bank. Opposite the LEDs, there's a microUSB port, used to charge the Power Bank, and on the bottom, there's rubber for a firmer grip on flat, smooth surfaces.


Charging the Apple Watch with the Power Bank can be done by laying it across the top of the accessory with any open loop band like the Sport Band. It's also possible to use it with closed loop bands by wrapping the band around the bottom. It won't quite sit flat, but it works. When the Apple Watch is placed flat on the Power Bank, it's easy to accidentally knock it off, so wrapping the band around the base was actually the more secure way to use it, though less convenient.


I also found that with my Apple Watch band wrapped around the Power Bank and closed tightly, I was able to place it on its side to take advantage of the Apple Watch's Nightstand mode, which only works in landscape orientation. Since the cube-shaped Power Bank is so small, the Apple Watch is able to rest on a flat surface when charging this way and so it's quite sturdy.


The ZENS Power Bank, though equipped with an Apple Watch charger, needs to be charged with a microUSB cable, which may be one of the only downsides to the product. As someone with almost all Apple products, I don't normally carry a microUSB cable with me, but I've had to bring one along when traveling to keep the Power Bank charged. The Power Bank does ship with its own microUSB cable included in the package.


According to ZENS, the 1300mAh battery in the Power Bank is enough to charge the Apple Watch three times, but in my testing with the 38mm Apple Watch, I didn't get quite as much power out of it. Over the course of three days, I drained my Apple Watch to zero battery three times over and charged it with the Power Bank, but it was only able to deliver a full charge the first two times, recharging my watch to just 20 percent on the third time before the battery ran out.


I'm not entirely sure why I was only able to get two complete charges out of the Power Bank when ZENS promises three, but it's possible that I have a faulty unit because I did test twice over. With the 42mm Apple Watch, which has a larger battery, users may see just two full charges from the ZENS Power Bank instead of 2 charges with a bit of juice leftover.
It's actually unusual for my Apple Watch to be fully drained each day, and with normal usage, the Power Bank lasted for approximately four days before I needed to recharge it. That's probably enough for a weekend trip if you're somewhere without power. Recharging the Power Bank from empty to full took a couple of hours.
When plugged into a computer's USB port or a USB power adapter like the one that ships with the iPhone, the Power Bank offers passthrough charging, so it can be set on a desk for general daily charging and then be unplugged and taken on the go when necessary.

Bottom Line
The ZENS Power Bank isn't much bigger than a standalone Apple Watch charging cable and it's more expensive, but during my time testing it, I found it surprisingly handy to have an Apple Watch charging solution that could be easily disconnected from its cord and transported around the house to be placed wherever I wanted it.
It's also the sole Apple Watch charging solution I brought with me on a recent vacation and I've only needed to plug it in every few days for a couple of hours - otherwise, I've been charging my Apple Watch cord free. The Power Bank is as versatile as a standalone Apple Watch cable, supporting several different charging orientations and all Apple Watch bands, plus it adds the ability to go cable free and it's the smallest travel solution I've come across.


That's not going to be worth upwards of $50 for all Apple Watch owners, but frequent travelers and those who want to add a bit more convenience to their Apple Watch charging routine will undoubtedly appreciate the Power Bank.
Pros:
Tiny
Highly portable
Built-in Apple Watch charger
Works in Nightstand Mode
Passthrough charging
Cons:
On the pricy side
Need to carry microUSB cable
How to Buy
The ZENS Apple Watch Power Bank is priced at €49.99 or approximately $56. It can be purchased from the ZENS website and it will ship to the United States and several other countries from the Netherlands.
Note: ZENS provided a Power Bank to MacRumors free of charge for the purposes of this review. No other compensation was received.