WaterField Designs is a San Francisco-based company that makes a range of different cases and bags for Apple's product lineup, from the iPhone and iPad to Macs, Apple TV, and Apple Watch.
For Apple Watch, WaterField Designs has the Time Travel Case, which is designed to organize your Apple Watch accessories into one easy place for commuting and traveling so nothing gets misplaced or lost.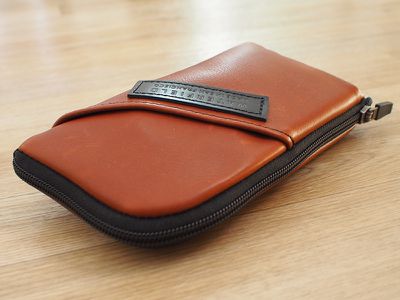 Made from either black leather or "cowboy" brown leather that's soft and supple to the touch, the Time Travel Case for the Apple Watch measures in at 7.5 inches long and 4.25 inches wide, and it's slim enough to tuck into the pocket of a purse or backpack.
It zips along the top and one of the sides and opens up into a u-shape so that you can get to the contents inside. The entire inside is lined with a soft material that will ensure nothing gets scratched, and there's padding at the sides to keep expensive watch bands safe.


At the right side of the pouch, there's a wide side pocket that's designed to hold Apple Watch bands, and I found that you can fit three to four inside comfortably, which is ideal if you want to bring a few extra bands along when traveling.
On the left side, there are two smaller pouches that can hold an Apple Watch charging puck with cable and your headphones or AirPods case. The larger left side pocket is perfect for cables, while the smaller pouch is the perfect size to house AirPods.


Between the two sides of the pouch, there's a middle section that can fit additional cables or accessories, or a device up to the size of an iPhone XS Max.
If desired, you can also put the Apple Watch either in this main middle pouch or in the left side pocket in place of a band when the Apple Watch is not in use, though some bulkier bands may not fit on the left side super well. My 38mm Apple Watch band with Sport Loop or Milanese Loop fit in either location.


At the outside, there's a diagonal pocket that's also perfectly sized to hold an iPhone, and it fits an iPhone XS Max in an Apple-designed case. A thicker case probably wouldn't work, but a naked iPhone certainly fits. Smaller devices like the iPhone X will also fit without falling out thanks to the grip of the leather.
The outside pocket features a large WaterField Designs logo, which is the only negative that I see to the design of the case. I'd prefer to have no visible logo, but it might not bother some people.


I was able to fit three Apple Watch bands, AirPods, an Apple Watch charging cable, a Lightning cable, an Apple Pencil, and my iPhone XS Max inside the Time Travel, with additional room available to stick something in the outside pocket, so it can hold a good amount of gear.
When packed full, though, it does expand to be about an inch and a half wide, but when limited to accessories instead of an iPhone, it's slimmer and easier to carry.

Bottom Line
Because of its higher price tag, the Time Travel Case for Apple Watch may not be for everyone, but it neatly organizes your extra Apple Watch bands and charging cable in a logical way, plus it has space for other accessories like an iPhone.


If you're looking for a high-quality storage pouch that will keep your Apple Watch gear and other bits and bobs organized in a way that cheaper pouches will not, the Time Travel Case is potentially worth checking out, and as a bonus, it will match well with other WaterField Designs gear.

How to Buy
The Time Travel Case for Apple Watch can be purchased from the WaterField Designs website for $59.
Note: WaterField Designs provided MacRumors with a Time Travel Case for the purpose of this review. No other compensation was received.