Known for providing a variety of storage solutions for desktop and mobile devices, SanDisk continues its trend of easy-to-use storage devices supporting multiple connector standards with its new Dual USB Drive Type-C. Taking aim at the growing use of USB-C in the tech industry, the Dual USB Drive includes connectors for both USB-A 3.0 and USB-C that allow users to transfer files between a traditional USB-supporting computer and a machine like Apple's new 12-inch Retina MacBook that uses the new USB-C standard.
While similar to the company's iXpand Flash Drive line -- which pairs a USB connector with a Lightning connector for a more mobile-friendly storage solution -- the Dual USB Drive is definitely lighter and slimmer than the iXpand line. The new drive is actually part of the line of SanDisk's "Dual" USB Drives, the other two of which focus on a more Android compatible transfer process. Only coming in a 32GB option, the Dual USB Drive Type-C has plenty of storage for all kinds of files, from music and photos to documents and slideshows.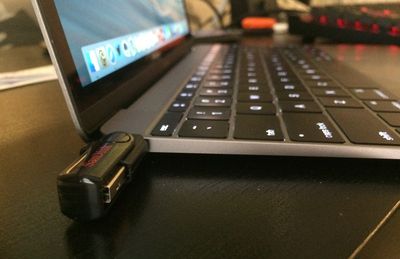 I've spent the past week or so testing the Dual drive, but as with any other basic flash drive, it either works hassle-free or it doesn't. Thankfully, SanDisk's new USB-C supported solution is a breeze when it comes to data storage and transfer. The drive took essentially the entire contents of my new 12-inch MacBook and in a few seconds had successfully pasted copies of the files into its 32GB storage.

Admittedly, I don't have a ton of music (about 6GB), and even less space taking up documents and photos, but with many of us having had frustrating experiences with shoddy flash drives, it's nice to know this one works. The USB 3.0 end of the flash drive probably doesn't need much mention, but works sufficiently as well. The 3.0 connector allows for fast transfer speeds, even for large files, and is of course backwards compatible with USB 2.0 ports, as well.


SanDisk has also created a Google Play mobile app, called "SanDisk Memory Zone," for the new Type-C drive, allowing customers with USB-C smartphones to monitor storage and organize files when plugging the drive directly into their mobile device. The big downside here, of course, is that not many people have a USB-C smartphone, because they're quite rare this early in the game. As such, I can't speak to the app's UI and efficiency claims, but screenshots on the app's Google Play storefront promise dense information statistics with individual storage percentages and back-up statuses.


The svelte drive comes designed with a rotating cover that hides whichever connector is not currently in use, which will constantly leave one end of the drive open and vulnerable. It may not be a deal-breaker, but it's worth noting for those liking to keep their USB drives dust-free. The top end of the drive also includes a small opening for adding the device to a key chain for better ease-of-use, although the previously mentioned lack of full-device protection may cause some to rethink that option.


Perhaps the Type-C drive's biggest negative is its price: $64.99 on SanDisk's official online store and more like $49.99 through other outlets like Amazon. It's unquestionably steep for 32GB of memory given many name-brand drives can be had for $10-$20 and even SanDisk's regular USB 3.0 flash drives retail in the $35 range, but options are still fairly limited for users who need USB-C compatibility. SanDisk's somewhat premium pricing coupled with the dual USB/USB-C abilities available on the new drive no doubt contribute to the higher price tag.
There's not much else that can be said about the Dual USB Drive Type-C by SanDisk, beyond the confirmation that it does its job, and does it well with flexibility to connect to both the widely-used USB-A standard and the upcoming USB-C standard. The lack of smaller or larger storage options that some of SanDisk's other drives provide is unfortunate, but those looking for a basic file transferring system may not need more than the standard 32GB.


The Dual USB Drive Type-C can be purchased from the SanDisk online store, and from various retailers, for $64.99. A number of retailers including Amazon, Best Buy, and Newegg are currently selling it for $49.99, so be sure to shop around for the best pricing.