Back in January, Ring introduced its motion-activated Floodlight Cam, pairing a security camera with two bright floodlights to help protect users' homes. The Floodlight Cam began shipping in April, and I've been using one for about six weeks to monitor the rear of my house. It's a handy product that lets you keep tabs on movement around your home, with push notifications, live and recorded camera views, and the ability to use two-way talk and a siren to communicate with people approaching your home.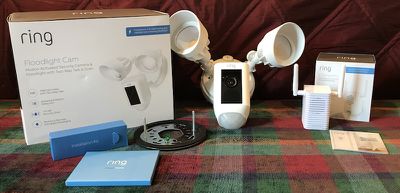 The hardwired Floodlight Cam includes a pair of floodlights with a 270-degree motion sensor, combined with a camera capable of 1080p HD video, enhanced night vision, 140-degree field of view, and a cloud recording subscription plan. It's priced at $249 (or $449 for a two-pack) and is available in black or white.

Installation
Installation of the Ring Floodlight Cam is designed to be fairly straightforward, presuming you're replacing an existing light on the exterior of home. Ring provides all of the tools you'll likely need to install the Floodlight Cam, and maybe even remove your existing fixture, including a screwdriver with multiple bits. The Ring iOS app walks you through the installation process step-by-step, including videos for many of the steps.

Mounting bracket and tools
The first step is of course to turn off power to the circuit where you're going to be working, and then remove any existing light fixture at the location. From there, installation requires attaching a mounting bracket to your existing junction box that should already be in place, using an included hook to temporarily hang the Floodlight Cam from the bracket while you wire up the ground, hot, and neutral wires using included wire nuts, and attaching the body of the Floodlight Cam to the mounting bracket.

Installing the Floodlight Cam
A foam gasket on the mounting bracket helps to seal things up, although I did find it a bit tricky to secure the body to the mounting bracket. After sliding the body of the Floodlight Cam over mounting posts on the bracket, two small cap nuts are used to secure everything and offer a finished look to the installation. The instructions describe using the handle of the included screwdriver to tighten the cap nuts, but I found it didn't serve the purpose very well as the recessed design of the mounting post area didn't allow the screwdriver to fit in very well around the cap nut. As a result, I simply tightened the cap nuts by hand, which was still a little tricky but seemed to hold tightly enough.

Floodlight Cam installed
Initially, I had planned to replace an existing floodlight mounted on the underside of an overhang over my garage, but Ring provided conflicting information about whether it was possible to install the Floodlight Cam horizontally under an overhang rather than vertically on an exterior wall.
The installation instructions make a passing reference to mounting on an overhang, and I found a support Tweet from Ring claiming it was possible, but it wasn't clear to me exactly how to accomplish it. Further research led me to an FAQ saying such orientations are not supported, while a support rep informed me over chat that "it should work completely fine."
I spoke to a PR rep for Ring, who gave me the official word that "after further testing," horizontal mounting from an overhang isn't recommended. I could definitely see that trying to aim the camera and floodlights could be difficult within the limitations of the adjustments if mounted horizontally, so I understand why it isn't supported. Ring really should have sorted that out before launching the product, however, or at the very least made sure that all support representatives were aware of the updated installation guidelines once the change was made.

Setup
With the Floodlight Cam physically installed and the power turned back on, the Ring app continues to walk you through the setup process, allowing you to get it onto your Wi-Fi network and enter email addresses to invite friends and family to have the ability to respond to event alerts. From there, the Floodlight Cam is ready to go, although there are more settings and customizations to adjust to optimize performance.

Ring app walking through installation and setup
The Ring app offers a simple home screen that displays each of your Ring devices for easy access, as well as a list of all events like recent instances of motion being detected (answered or not) and manually initiated live views. With an active Ring Protect subscription, you can access all of the video recordings from these events.

Ring app home screen showing events, starring, and sharing
The list can be filtered to show only motion events, only live views, rings (if you have a Ring doorbell device) or only starred events that you previously selected to be saved. Sliding left on any entry brings up options to star the entry, share it (which generates a link to the video clip embedded on a web page, which can be shared to anyone via a share sheet), or delete it entirely.
The main screen for the Floodlight Cam in the Ring app offers easy toggles for the lights and motion alerts, as well as large buttons to access a live video feed from the camera or to sound the loud, 110-db siren to scare off potential thieves and draw attention to the house. Underneath, you'll find a paginated series of large buttons for accessing various settings, led by an Event History log showing basically the same log of alerts and events as on the home screen, but limited to the events associated with that specific device.

Main screen for Floodlight Cam (left), Live View screen with controls for intercom, siren, and lights (top right), and confirmation screen for siren activation (bottom right)
Back on the main screen for the Floodlight Cam, the Device Health section gives you stats on your device, including information on the Wi-Fi network you're connected to, the signal strength, the MAC address for the device, and the firmware version, as well as access to tools for troubleshooting and contacting support.
The Motion Settings section allows you to customize how the Floodlight Cam detects motion. There are three areas to customize, starting with a simple slider for sensitivity that ranges from all motion to "people only."


Motion Zones allow you to draw multiple polygons on the live video feed to specify exactly where the Floodlight Cam is looking for motion. And finally, you can set up rules to schedule specific times of day on any or all days of the week during which you do not wish to receive motion alerts from the camera.

Setting up motion zones
Since the Floodlight Cam is also a pair of lights, there is a section for customizing how those are triggered by motion. You can select specific zones around the camera where detected motion should trigger the lights to come on, and you can specify a general distance from the camera using a slider as well. Finally, you can specify how long the lights should remain on for after a motion event is triggered, ranging from 30 seconds to 15 minutes. You can also schedule your lights to come on and stay on for a certain period of time each day.


A Linked Chimes section lets you pair the Floodlight Cam with one or more interior Ring Chime Pro units for alerts, and I'll discuss that in more detail a bit later in this review.
Finally, a Shared Users section lets you view and manage other Ring app users to whom you have granted access to view event alerts, while a Ring Partners section lets you integrate Ring with security and automation services, such as ADT Pulse, Wemo, Kevo, and Wink.

Cloud Recording
The Floodlight Cam comes with a 30-day free trial for video recording, which saves videos to the cloud to access within the Ring app. As the free trial period runs out, you'll need to decide whether to sign up for a Ring Protect subscription.


The Ring Protect Basic plan costs $30 per year or $3 per month and covers only one camera, so if you have multiple cameras you'll need to pay separately for each of them. The Ring Protect Plus plan costs $100 per year or $10 month and covers an unlimited number of cameras at one location, as well as Ring Protect monitoring for the just-announced home security system.
Whenever motion is sensed and an alert activated, the Floodlight Cam will record a video clip for the duration of the motion so you can easily see what's going on. With cloud recording, you can access past events on-demand, but once that trial runs out, if you don't subscribe to the cloud recording service you'll only be able to check in on live video views. It still lets you see what's going on if you can immediately respond to an alert, but you'll miss out if you don't catch the alert until later. Saved recordings can also be extremely helpful to authorities in the event of a crime.
There are no contracts or long-term commitments for Ring Protect subscriptions, but if the free trial runs out or your subscription lapses, your existing saved recordings will be deleted.

Ring Neighborhoods
In an effort to help neighbors work together to reduce crime, Ring offers a beta feature called Ring Neighborhoods. Once you opt in to the feature, you'll be able to set up a radius around your home to define your neighborhood and then view videos shared publicly to Ring Neighborhoods by other Ring users within that radius. You can share your own videos from a Live View by tapping a neighborhood icon and then entering some details once the video is over.
With Ring Neighborhoods, users can share videos of suspicious people or vehicles, or other incidents of concern, alerting others to be on the lookout. Users can also re-share videos posted by neighbors to other social networks and messaging platforms.

Daily Use
I found that the Ring Floodlight Cam worked well, reliably picking up motion on my back deck and the stairs leading up to it. Most of the motion it picked up was my kids playing in the backyard, but it also picked up a neighbor's cat that likes to visit our deck from time to time, and even a squirrel on occasion. Adjusting the sensitivity of the motion detection minimized alerts for those smaller creatures, cutting down on spurious alerts.
The Ring app offers reasonably quick access to toggles for the lights and motion alerts, so I could easily turn off motion alerts temporarily while my kids were playing out back.
Fortunately, I didn't have the need for a real-life test of the two-way intercom or siren for dealing with any unwanted visitors to my back deck, but I did test the intercom function and it worked well, with audio coming through loud and clear outside.
Overall, I found the Ring Floodlight Cam to be a relatively unobtrusive addition to my home security, which is a good thing. An occasional alert on my phone of motion detected on my back deck isn't particularly bothersome, and in fact I'm still in the phase where I'm eager to check out what caused a given alert, rather than feeling bothered.
Knowing that I'll get an alert and lights can be turned on if motion is detected at unwanted times offers good peace of mind, and the live view capability makes it easy to check things out if you hear something that doesn't even trigger an alert, or even if you just want to take a look outside and make sure everything's okay.

HomeKit
Ring doesn't specifically address the possibility of HomeKit support for the Floodlight Cam on the product page, but the company has repeatedly said that it intends to bring HomeKit to the Floodlight Cam at some point in the future. The device hardware is already HomeKit-compatible, so only a firmware update will be needed once Ring is ready to roll out support.
The problem is that Ring has yet to offer a launch date for HomeKit support, and the months continue to tick by. In mid-2016, Ring announced plans to bring HomeKit to the company's Ring Pro video doorbell by "early next year," meaning 2017. The Floodlight Cam was the second Ring product on that HomeKit roadmap.
We're now nearing the end of the year, however, and HomeKit support has yet to go live. The company continues to respond to comments on the announcement blog post, noting as recently as this week that it is an "ongoing project" to bring HomeKit to the Ring Pro and the Floodlight Cam but that it "has been delayed." A Ring representative tells me the company does not have any additional updates on timing for HomeKit support at this time.
It's certainly not unusual for launch dates on features like this to slip, particularly when Apple is involved, but it's a bit frustrating that there hasn't been any visible progress on this effort in well over a year.

Chime Pro
The Floodlight Cam works fine as a standalone product, but if you want a way to be notified of alerts without having to have your smartphone on you, Ring offers a $49 Chime Pro accessory. The Chime Pro will not only provide you with audible chime alerts within your home, but can also act as a Wi-Fi extender to ensure Ring products that are located far from your base station can receive an adequate signal.


As with the Floodlight Cam, installation of the Chime Pro is simple, with the Ring app walking you through naming the accessory, getting it onto your Wi-Fi network, and linking it to your Floodlight Cam and any other Ring devices so it can sound audio alerts for them.

Chime Pro setup
When you link devices like the Floodlight Cam to the Chime Pro, the Ring app will give you the option of connecting the devices to the Chime Pro's extension of your Wi-Fi network. If your device's direct connection to your main network is sufficient and you attempt to switch over to the Chime Pro's access point, it'll let you know that the signal is already fine and ask you if you're sure you want to proceed.
Switching the Floodlight Cam's connection over to the Chime Pro involves pressing a button on the Floodlight Cam to go through some of the setup steps again, allowing it to use the Wi-Fi settings sent by the Chime Pro rather than those for your main network.
Regardless of whether you choose to connect your Floodlight Cam to the Chime Pro's extension or directly to your home's Wi-Fi, the Chime Pro can play audio alerts inside your home for rings on a Ring doorbell or motion detected by a Floodlight Cam. You can choose from several different ringtones for each, making it easy to distinguish between the two types of events if you have multiple Ring devices in your home.


The Chime Pro appears right alongside the Floodlight Cam in the Ring app, although settings are considerably simpler with only Chime Tones, Device Health summary screen, and Linked Devices manager showing as options.

Wrap-up
At $249, the Ring Floodlight Cam requires a little thought before purchasing to be sure it's right for you, but if the setup works for your home, it packs a good number of features into a single package with a high-quality camera, bright floodlights, and two-way intercom.
Access to cloud recordings is also a really nice feature to have, although at a minimum of $30 per year in subscription fees, it's another cost to consider before taking the plunge. Subscription fees for cloud recording services on cameras are typical, so Ring isn't out of line on this, but it does add up over the years. Just recently, competitor Canary was forced to scale back on features offered on its free plan as the company's cloud infrastructure expenses were starting to mount, so it's understandable why cloud features are an add-on subscription cost.
The value proposition for Ring increases if you go all in on the company's ecosystem, and many potential customers for the Floodlight Cam already have a foot in the door with one of Ring's video doorbells. If you go with a doorbell, a couple of Floodlight Cams, and the new Ring Protect security system, you have an integrated security setup and you can get cloud recording for all of them for $100 per year.
The Ring Floodlight Cam is available for $249 directly from Ring, but you can usually save a few dollars buying through Amazon depending on color. Both Amazon and Best Buy are currently offering the white model for just $227. The black models are not currently discounted by Amazon or Best Buy, although a few third-party Amazon sellers are offering small discounts.
The Ring Chime Pro is priced at $49 through Ring, while Amazon and Best Buy currently have it on sale for $46.
Note: Ring provided the Floodlight Cam and Chime Pro to MacRumors free of charge for the purposes of this review. No other compensation was received. MacRumors is an affiliate partner with Amazon and Best Buy and may earn commissions on purchases made through links in this article.