Since the launch of Apple's Retina MacBook last April, users have been looking for ways to expand the functionality of the single port included on the machine, a USB-C that can support a multitude of functions including power and data. Many third-party companies have begun shipping single-use dongles and small hubs for MacBook fans to be able to get full use out of their ultra-thin 12-inch notebooks.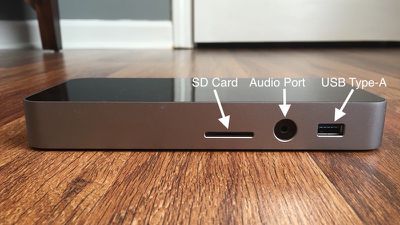 All pictures in the review are of a pre-production unit lacking proper screen printing with port designations


OWC's USB-C Dock is one of the first full-featured alternatives for the MacBook. At $159.00, the 8-inch by 3.5-inch dock comes with ten ports for users to take advantage of: four USB Type-A, one USB Type-C, an SD card reader, HDMI with 4K display support, Gigabit Ethernet, an audio headphone jack, and one USB 3.1 Type-C computer link.


The first thing that should be noted is that the dock requires two included cables to fully function: an external 80W power source that plugs into an outlet, and the USB-C cable that connects everything to the MacBook. Thankfully, the power adapter also charges the MacBook while it's in use; after that initial setup, most things plugged into the dock work without any added steps.

HDMI
With so many different ports, the features of the OWC Dock are exhaustive in their capabilities, so I'll take it one at time. One of the best selling points of the USB-C Dock is its ability to connect the Retina MacBook to an external display through an HDMI cable, expanding its 12-inch display onto a bigger screen real estate. Apple introduced similar potential with its USB-C Digital AV Multiport Adapter earlier in 2015, and the OWC Dock matches its abilities with 4K-quality video output at 30Hz.


OWC's alternative is reliably impressive as well, and largely hassle-free in its setup. After plugging one end of an HDMI cable into the dock's back port and doing the same on any HDMI-enabled display, the MacBook automatically recognizes the screen mirroring and sufficiently adjusts the screen's text size to fit the larger screen. Most importantly, the subsequent connection between the two devices via the OWC Dock feels smooth and lag-free.

Ethernet
One in-house alternative Apple has yet to provide to MacBook users is some kind of USB-C adapter for Ethernet plugs, although there have been a handful of third-party options to choose from. OWC's dock provides a chance to choose a wired connection instead of Wi-Fi as well, although users will be encouraged to install a downloadable driver beforehand to ensure support.


OWC cites possible performance issues with the Gigabit Ethernet connection when using the dock without the driver installed. For that reason, to ensure a smooth connection, the company will provide a link to download the assisting driver from the USB-C dock's product page. That hurdle can be slightly cumbersome for users looking for Ethernet connectivity on the MacBook, but once the driver was installed the wired connection never showed any glitches or issues in my testing.

USB Type-A, USB Type-C, and SD Card Reader
One of the more standard uses of the USB-C Dock is the collection of USB and SD Card reading slots arranged on both the front of the device (one USB Type-A and one SD Card Reader) and its back (three more Type-A and one Type-C). For anyone looking specifically for the breadth of this kind of port diversity, the abundance of input options is probably the biggest selling point of the dock.
The sole USB-C port essentially acts as a continuation of Apple's commitment to the new port standard for any new accessories introduced alongside the laptop, and coming in the future. A single SD Card Reader may be lacking for some who exclusively use that storage medium, especially when considering the amount of USB 3.1 ports available on the dock, but each of the inputs proved dependable for importing and exporting data to and from the MacBook.

Audio Port
As with many other multifunction docks, OWC's USB-C dock includes an audio port to make it easier to connect headphones. The extra steps needed to set up OWC's audio port for proper listening hamper its initial functionality, however, since the MacBook's default output setting relies on its internal speakers and not a third-party connected device.


Users will need to go into System Preferences > Sound > and Output to switch over sound from the MacBook to OWC's USB option, or option-click on the sound icon in the menu bar to change outputs. Unfortunately, it wasn't much worth the effort for using headphones with the dock in my experience. Even after a few tweaks to the sound balance, any passive in-ear device plugged in through the dock had an inordinately loud output volume, so much so that the first volume rocker on my MacBook's control panel was uncomfortably loud to listen to for extended periods of time.
Switching to a powered external speaker (I used a Beats Pill), the quality and sound saturation coming through the OWC dock vastly improved, mostly because the Pill has its own volume adjustment options. The volume rockers on the MacBook returned to a normal fluid scale, and the sound pushed through the speakers of the Beats Pill held the same quality as it would being fed over Bluetooth. But with any wired headphones I tested, the USB-C Dock consistently output inordinately high volumes.

Design
Thankfully OWC didn't solely focus on functionality without an eye for design when creating the USB-C Dock. Available in three colors that mirror the Retina MacBook's own options -- Space Gray, Gold, and Silver -- the dock is a competent visual companion to the MacBook when settled next to one another on a desk. The topside of the device is made of a glossy black surface that aggressively attracts fingerprints, so that should be kept in mind, but the smooth surface of the dock's sides successfully mirrors the MacBook's uniform matte finish.


Most of the dock's ten ports are nestled on the back, with quicker access to a USB 3.1 port, audio port, and the SD Card Reader port on the front. It may become finicky to reach the rear ports, but it smartly hides those that feed out longer cables to the back, which should aid in overall organization and cable management. Its 8-inch by 3.5-inch footprint is something that could vary in importance on a person-by-person basis, but it's essentially the same size of the MacBook width-wise and about an inch taller.


Anyone who really needs the kind of port expanding power it provides, and has the desk space, should be largely satisfied with its appropriate weightiness. Those looking for more port options but who want to keep the MacBook's inherent portability may find the device's desk-locked functionality a tad too cumbersome (two long cables and a near-ten-inch dock don't exactly support mobility), so those users may want to look into simpler, smaller hub options for portability.

Daily Use
After using the OWC USB-C Dock for over a week, I've found it reliable without any real hiccups other than my previously outlined qualms about headphone audio levels. USB sticks always worked, as did HDMI and Ethernet ports, and the docking station aspect of the USB-C dock is a big plus compared to smaller dongles and hubs you might otherwise need to fumble for and connect on an as-needed basis.
Building on Thunderbolt docks that have gone before, USB-C offers many of the same advantages of allowing one hub for a vast array of connections that can all work simultaneously through the single port. I was concerned over the use of multiple ports diluting the performance of each individually, but at one point I essentially had every one filled save two and the MacBook happily registered all inputs.


Heat was a bit of a concern with the dock, although no specific ill effects were observed. With Ethernet, an external display, a USB dongle, and the Beats Pill all plugged into the dock for about three hours one morning -- and apps like Slack and Tweetbot running -- I registered noticeable heat coming off of both the MacBook's underside and the sides of the dock itself.

Bottom Line
Some of that heat is mitigated thanks to the required external power supply, but it may be hard for some to get around the fact that anyone who really wants to get this much out of the slim MacBook probably didn't purchase it for such intensive use in the first place. The dock runs for $159.00, with optional 3ft ($19.00), 6ft ($29.00), and 10ft ($39.00) Premium USB-C Cable options at check-out (the device itself comes with an 18-inch cable). In comparison to other similar robust Thunderbolt docks, which OWC sells as well, it's a pretty competitive price point for its functionality.
The OWC USB-C Dock is an impressive accessory for showcasing the potential of the current line of Retina MacBooks, not to mention what could be done with the product with expanded features in the future. For that reason, since there's nothing out there that matches it in port options, it could be the perfect companion to a new MacBook for some. But, unless you're in need of robust USB ports, external video options, and don't mind making room on your desk, the plethora of practical dongles and smaller USB-C hubs on the market may be more than enough for many users.
Pros
Impressive suite of ports
Sleek design mirrors Apple aesthetic
Most ports work effortlessly
Cons
Audio port headphone problems
Required desk space and added cord clutter
Potential MacBook heat and performance issues with extended use
Extra step for Ethernet functionality
How to Buy
OWC's USB-C Dock can be pre-ordered from the company's official online store for $159.00. Shipping for the first round of pre-orders is expected to begin on January 19, with shipments for orders placed more recently trickling out in the weeks ahead.