When Apple launched the new 12-inch MacBook earlier this year, some of the first accessories for the laptop -- which uses USB Type-C exclusively -- were various adapters and dongles that allowed customers to expand the initially limiting capabilities of the hardware with access to traditional USB, HDMI, and SD card ports. Apple itself launched a line of expansion cables for USB Type-C devices, and now third-party accessory company Satechi has its own Type-C line of USB hubs and adapters for customers to choose from.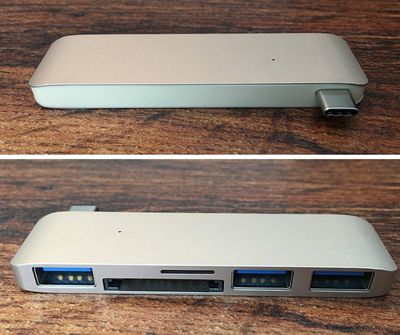 Satechi's Type-C USB 3.0 3-in-1 Combo Hub


Satechi sent me two of the company's new accessories focusing on the connectivity between USB-C devices and more traditional inputs, mainly USB 3.0. One of the accessories is a complex "Hub" ($39.99, on sale for $34.99) with three USB 3.0 ports along with one SD and one microSD card slot, while the other is a simple dongle ($14.99) with a USB-C connector and a traditional USB-A 3.0 port. Each product comes in three different colors to match the shades of the new line of Retina MacBooks: Gunmetal (Space Gray), Gold, and Silver. Because neither dongle offers an additional USB-C port, there's no passthrough charging feature.

Satechi's Type-C USB Adapter


Overall, Satechi successfully mirrors Apple's visual aesthetic with the two accessories, and although I was sent Gold accessories that didn't exactly mesh well with my Space Gray MacBook, it seems when color-matched the new USB hubs would blend right in with their respective MacBooks.

With its most basic functions, the Satechi 3-in-1 Combo Hub provides simple USB-to-USB-C data transfer with little hassle. Once the Hub is plugged into a MacBook, a small light on the top of the accessory illuminates to confirm its activation, and users can then plug any USB 3.0 device into the accessory for access on the Retina MacBook. The Satechi Hub does accept SD cards and microSD cards but I had none on hand to test so can't confirm their functionality first-hand.


I'd say it's safe to assume the SD cards work as well as the USB ports on the Hub, but I ran into some noticeable issues with the accessory that may cause potential users cause for concern. First, Satechi's accessory is oddly choosy on which USB devices it accepts to work through the Hub. With three separate USB sticks and an Apple-branded USB SuperDrive to test out, I discovered that one USB stick and the Apple SuperDrive simply didn't work with the Hub.
When plugged into a separate computer both functioned normally, but plugged into the MacBook through the Satechi Hub, the USB drive never appeared on the MacBook. In a similar vein, the Apple USB SuperDrive repeatedly displayed caution messages reiterating the need for a separate power source to use the device, suggesting the Hub is limited in the amount of bus power it can provide. Essentially the only USB-related product I occasionally dust off is the SuperDrive, so it's particularly disappointing that Satechi's 3-in-1 Hub doesn't work with it. The Hub also tends to heat up with extended use, but it didn't appear to affect performance in my testing.


Second, the slender dongle raises some issues in its design: when plugged into the MacBook, the only anchor tethering it to the computer is the small USB-C connector. The Hub itself is just over 3.25 inches long and because of the MacBook's design has no extra support down the length of its side on the opposite end of the USB-C adapter. Although any harm is unlikely if handled with care, it certainly feels like there is potential for damage to either the Hub or the MacBook if the combination is held or picked up awkwardly and significant torque is applied to the connection.


Satechi's cheaper, smaller counterpart for the Hub is arguably a better accessory for users who need only a simple 1-to-1 device. I tested it out with the same USB sticks and USB SuperDrive, and everything worked without hassle. Apple's USB SuperDrive never gave a single error message as it did during my time with the Hub.
It's a smaller device, far more easily susceptible to loss (similar to SanDisk's Dual USB Drive), but at a low-entry price and economical functionality, it's arguably a better investment. Its only real downfall is that due to its small footprint, any leverage needed to remove a USB stick from its port will nearly always require users to first remove the entire adapter from the MacBook.


Satechi's 3-in-1 Hub is a bit more difficult to recommend. Although the two devices are meant for different people and purposes -- the Hub aimed at someone needing more connectivity, the simple dongle at more of a casual user -- there are just too many issues with the design and hit-or-miss execution of the Hub to recommend the $39.99 device even to those in need of its three USB ports.
On the other hand, the $14.99 Satechi dongle is one of the lowest cost USB to USB-C devices on the market, and functions as advertised. It also comes in about $5 under Apple's $19.99 version of the accessory, which is a bit longer with a slender white cable connecting the USB-C end with a USB port. Anyone in need of basic USB-to-USB-C adaptability, and who wants to save a little extra money, would do well to look into Satechi's simpler Type-C USB Adapter.
Both of Satechi's accessories are available to purchase from the company's official website, although a few of the Hubs (Gold and Gunmetal) are currently unavailable.