With Apple's decision to embrace USB-C on all of its modern Macs, the company has created a need for USB-C docks so that we can continue to use all of our non-USB C peripherals as we wait for the rest of the tech industry to catch up.
Kingston's Nucleum USB Type-C Hub is designed to meet that need, offering a selection of useful ports for MacBook, MacBook Pro, and iMac owners who still need to use the USB-A, HDMI, SD, and microSD ports that are no longer available on recent machines.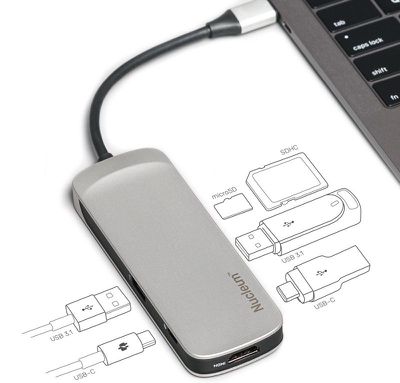 The Nucleum USB-C Hub, made from a silver Aluminum to match Apple devices, is small enough that it can be tucked into a purse or a bag, or, in a pinch, a pocket. It's narrower and shorter than an iPhone X, but a bit thicker, with a short built-in USB-C cord provided.
It's a bit larger than palm-sized, but it's still not going to take up much room during travel or when it's in use on a desk. There's a "Nucleum" logo on the top of the device, while the back features Kingston branding and necessary regulatory labels.


The left side of the dock features a USB-A port and a USB-C power delivery port so you can charge a MacBook or MacBook Pro while the hub is plugged in, and on the right side, there's another USB-C port for USB-C accessories, a single USB-A port, a microSD card slot, and an SD card slot. At one end, there's the aforementioned power cord, while the other end houses an HDMI port.
All in all, there are a total of seven ports available on the hub, which is not too bad for a device of this size. I don't often need more than two USB-A ports at a time, so the two-port setup worked for me, and it's nice to have access to both microSD and SD card slots for camera accessories.


This port arrangement is standard for many of the USB-C hubs that you'll find on sites like Amazon, but I've found that many of those hubs don't offer multiple USB-C ports. An extra USB-C port is surprisingly handy for my MacBook in particular (which has a single USB-C port) because I've found myself with more USB-C accessories as I transition from USB-A to USB-C.
If you have primarily USB-A accessories, you may find that the Kingston hub does not offer a sufficient number of USB-A ports. Competing (and more affordable) hubs on Amazon typically offer 3 to 4 USB-A ports, but again, Kingston has a nicer variety of ports available. Most dual USB-C hubs seem to have higher price tags.


You can use all of the hub's ports at once if so desired, and when testing multiple accessories plugged in at once, I ran into no problems. The HDMI port supports a 4K monitor (or a 1080p monitor), while passthrough charging functionality means your attached iPhones will charge up while plugged into the hub. Kingston says the Nucleum offers 5V/1.5A, which is best suited to iPhones and similar accessories. iPads will charge, but slowly.
When using the power delivery USB-C port with your USB-C cable and power adapter for charging purposes, the hub is able to deliver up to 60W of power. That is sufficient for charging the 12-inch MacBook (29W) or the 13-inch MacBook Pro (61W) but it falls a bit short of the full capacity of the 15-inch MacBook Pro (87W).


Still, 60W is enough to keep a 15-inch MacBook Pro topped up provided you're not doing something that's super battery intensive like rendering video or playing a graphics-heavy game. During my workday, the 60W provided by the hub was enough to keep my 15-inch MacBook Pro at 100 percent using apps like Safari, Mail, Slack, Photoshop, Pixelmator, Chrome, Tweetbot, and more all at once.
I did notice that when I unplugged my USB-C power adapter from the Nucleum or when I plugged it in, that it would cause the hub to shut off for a second. That means that any hard drives or other accessories I have attached temporarily disconnect, so you're going to want to be careful not to plug it into a power source or unplug it during file transfers.
As a side note, the Nucleum does not need to be plugged in to a power source other than the host computer for it to function. Using the passthrough charging feature is optional.
Transfer speeds were at what I'd expect for a USB-A device plugged into a USB-C hub. With a traditional Seagate Backup Plus hard drive, for example, it took about 20 seconds to transfer over 3GB of data. Speeds were a bit slower when I was utilizing all of the ports on the hub, but not unreasonably so. As a note, you can only connect USB-C and USB-A hard drives to the hub. If you have a Thunderbolt 3 drive, like I do, it is not compatible because the Nucleum does not support Thunderbolt 3.


Moving files from an SD card and a microSD card was also relatively speedy, with it taking about 25 seconds to copy over 1GB worth of photos from an SD card to my computer, and a little under a minute to copy them back from the MacBook Pro to the card. As someone with several cameras and a drone, having access to both microSD and SD card slots is invaluable.

Bottom Line
With Apple's focus on USB-C and its decision to remove all legacy ports, the company has created a thriving third-party hub market, and it can be difficult to narrow down what's good from what's just mediocre.
Kingston's Nucleum is in the former category, providing the ports you're most likely to need in your day to day life in a slim, portable hub from a trusted manufacturer. Kingston's hub is more expensive than some options you'll find on Amazon, but reliability is often worth the extra money.
I appreciated the compact size of the Nucleum, which makes it ideal for travel, and the variety of ports that it provides was perfect for me. It offers all of the ports that I need on a daily basis (primarily USB-C, USB-A, and an SD card slot), and everything worked as expected with no surprises.
I do wish that it perhaps had one more USB-A port for people who still need to use several USB-A accessories, but I have no complaints about an extra USB-C port. I don't need dual USB-C ports on my MacBook Pro, but for my 12-inch MacBook, dual ports is a valuable addition. While I used this with Macs, it's also going to be compatible with Windows-based machines.
The one major thing to be aware of with the Nucleum that it disconnects when connected to or disconnected from a power source. It's not a huge deal, but if you purchase this hub, make sure not to change its power settings during file transfers.

How to Buy
The Nucleum USB Type-C Hub can be purchased from the Kingston website or from Amazon.com for $80.
Note: Kingston provided MacRumors with a Nucleum USB-C Hub for the purpose of this review. No other compensation was received.