Native Union's Apple Watch charging solution, dubbed the "Anchor," is definitely winning in one category: its simplicity. The new accessory is neither a stand nor a dock, but more of a pad designed to nestle an Apple Watch charger and act as a dedicated area for users to rest their Apple Watches on to give them power. It's a stripped-down approach that makes the Anchor endearing, but ultimately also keeps it from becoming a front-runner in the budget-minded Apple Watch charging solution market.

Design
The Anchor is crafted in two separate parts, with a non-slip silicone acting as the base for a weighted zinc alloy for resting the Apple Watch on. The two halves come apart for installation, which is a simple process thanks to the ease with which the silicone base forms around Apple's inductive charging puck. It'll also be a breeze for those who travel frequently, since the Anchor's small footprint and minuscule weight (3.2 ounces) should be easily accommodated in a travel bag.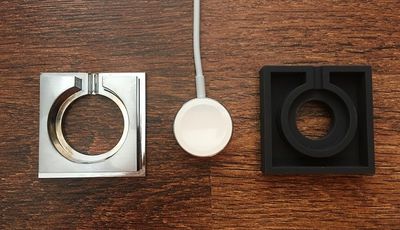 Due to its flat build, it should be mentioned that the Anchor's small size is a bit deceptive initially, as its 2-or-so inches become anywhere between 10 to 12 inches (depending on Band size) once the Apple Watch lays on the dock. And given its design, the Anchor doesn't elevate the Apple Watch above and away from a desk's clutter while being charged -- as many other docks successfully achieve -- instead tending to add to any clutter.
Design wise, there's not much else to say about the Anchor. With a small stature and rudimentary -- but functional -- design, it should make most owners of the Apple wearable happy. In particular, those who find the large size of some other docks to be a burden, or believe the bigger stands take away from the Apple Watch as its own centerpiece may appreciate the Anchor.

Daily Use
Note that I said most owners of the Apple Watch will be happy here, because the Anchor has one glaring problem: if you have any closed-loop band you simply can't use Native Union's charging base. Those with a Milanese Loop or Link Bracelet, or another third-party band of a similar nature, would have to lift the entire Anchor off the surface it's on, place the Apple Watch on it, and sit it back down with the base resting atop the closed-loop band.


As someone who has recently invested in a Milanese Loop, the Anchor was essentially pointless in my initial testing, forcing me to go back to a few of my old Sport Bands to truly see the use of the stand on a daily basis. Thankfully, in that sense, it's functional, but also questionably superfluous. Those 3.2 ounces of weight are more than the charging puck by itself, but still not enough to truly give the Anchor any tangible sense of security if it sits precariously close to the edge of a desk or bedside table.


The metallic alloy that covers the top of the Anchor is appealing, but as with any metal Apple Watch stand it may cause some to worry about scratches when resting and taking the device off the Anchor. It makes the Anchor tie into the Apple aesthetic nicely, but it's also a reminder that that's all the stand is for: providing users a more visually appealing alternative to just sitting the Apple Watch atop its charging puck alone.

Bottom Line
For $29.99, a dedicated, simplistic tool to charge an Apple Watch may be perfectly reasonable to some. But the Anchor has so many caveats that its list of cons creates an accessory that's hard to recommend, even to the users who can use it in the first place.


If you are on the hunt for a reasonably priced, non-showy charging solution for the Apple Watch -- and don't own a closed-loop band -- Native Union's option could work for you. But it's hard to escape the fact that most will get the same satisfaction and use out of the Anchor that they could get from taping down a MagSafe charger onto the spot on their desk where they want to charge the Apple Watch.
Pros
Non-showy design puts Apple Watch as centerpiece

Super easy installation and removal of MagSafe charger
Cons
Doesn't support closed-loop bands

Slightly increased weight would have been welcome to provide more security from spills

Requires more space than initially expected

Doesn't support all watchOS 2 features, particularly Nightstand mode

Too rudimentary in functionality, even for $29.99
How to Buy
Native Union's Anchor dock can be purchased from the company's official online store for $29.99. The company also sells a more full-featured Apple Watch dock for $59.99 that functions with every watch band and even supports Nighstand mode.