In iOS 16, Apple has introduced some major changes to its mobile operating system, including a complete overhaul of the Lock Screen experience.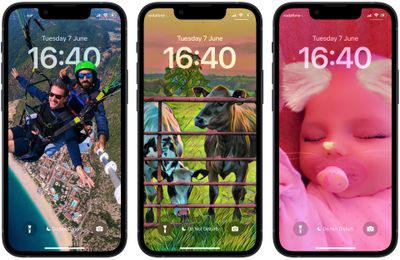 On an iPhone running ‌iOS 16‌, it's possible to customize the Lock Screen in ways that were simply not possible before, thanks to new options to apply unique fonts, colors, filters, and, for the first time, add widgets.
One new feature in particular that is sure to prove popular is the ability to shuffle your Lock Screen wallpaper. You can select multiple pictures from your photo library, and using the Shuffle option, you can opt to have the wallpaper shuffle between them on a set hourly or daily schedule, or every time you wake or tap your ‌iPhone‌ screen.
The following steps show you how it's done.
Press and hold on the Lock Screen until the wallpaper gallery appears.
Tap the blue + button in the bottom-right corner of the screen.
Select Photo Shuffle from the wallpaper menu.


Tap some photos in your photo library to include in the shuffle, then tap Add.
Tap the ellipsis button (the three encircled dots) in the bottom-right corner of the screen.
Tap Shuffle Frequency, then choose from Daily, Hourly, On Wake, and On Tap.

Tap Done in the top-right corner to finish, then tap your new Photo Shuffle wallpaper to select it from the gallery.
Your new shuffle wallpaper will now be live. Tap or wake your ‌iPhone‌'s screen to change the photo, or wait for it to change automatically, depending on your chosen option.