When Apple unveiled its new MacBook Pro models with a notch to house the camera in the thinner display bezel, many users saw it as a potential problem for third-party apps that place additional content across the menu bar, such as menus that extend from the left or menu items that extend from the right.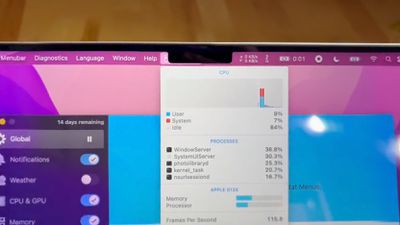 However, it turns out Apple was wise to the potential issue of having menus or menu items in the menu bar inadvertently being hidden behind the notch. In macOS Monterey, it includes a compatibility setting called "Scale to fit below built-in camera," which adjusts an app's settings so that it either uses the whole display or uses only the area below the camera housing.
"Scale to fit" ensures the menu bar and app windows appear below the built-in camera on your Mac and are always visible. Moreover, if the app has menu bar items or windows that would appear behind the camera housing, all open apps or apps that share the same space appear below the camera until you quit the app using the scaled setting.
Here's how to turn it on for an individual Mac app.
Close the app that you want to adjust for the notch.
Launch Finder and select the Applications folder.
Right-click (Ctrl-click) the icon for the app in question and choose Get Info.


Check the box next to Scale to fit below built-in camera.
Now restart the app, and as it launches you should see the screen automatically scale to fit its entire menu bar below the notch area, ensuring all of the app's menu bar items stay visible.