Following the release of watchOS 8.5 for Apple Watch and iOS 15.4, you can now restore an Apple Watch that has a problem using a nearby iPhone.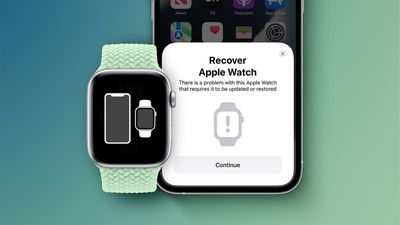 Before the updates were released, some Apple Watch models needing to be restored had to be mailed to an Apple Repair Center. In many cases, however, this is no longer a requirement thanks to the latest software updates, and you can restore a problematic Apple Watch at home using your ‌iPhone‌. Here's how it works.
The following steps assume that your ‌iPhone‌ is unlocked, updated to iOS 15.4 (Settings -> General -> Software Update), connected to Wi-Fi, and has Bluetooth turned on.
Make sure you ‌iPhone‌ is near to the Apple Watch you want to restore.
Put the Apple Watch on its charger.
Double-click the Side button below the Digital Crown on your Apple Watch.
Follow the steps that appear on your ‌iPhone‌.
If the steps don't work, check your Wi-Fi connection – Apple recommends trying a 2.4GHz network instead of 5GHz. Also recommended is to avoid 802.1X or captive Wi-Fi networks, such as those in hotel rooms, if possible.
If you see a red exclamation mark on the Apple Watch, double-press the Side button and then follow the above steps. If that doesn't work and the exclamation mark remains, Apple advises to contact Apple Support and arrange an mail-in repair.