Once you've paired a new set of Powerbeats Pro earphones with an iPhone running iOS 12 or later, they should automatically pair with your Apple Watch as long as your watch's software is up to date.
‌Powerbeats Pro‌ require watchOS 5.2 or later. To check which version of watchOS your watch is running, open the Watch app on the ‌iPhone‌ and select My Watch -> General -> About and check the Version entry. If your watch needs updating, you can download and install the new software by selecting My Watch -> General -> Software Update.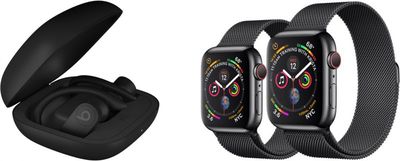 Once your Apple Watch software is up to date, your connected ‌Powerbeats Pro‌ earphones will automatically switch their connection between ‌iPhone‌ and Apple Watch, depending on which one is playing audio.
However, you can also manually connect ‌Powerbeats Pro‌ to your Apple Watch whenever you like. Here's how it's done.
On your Apple Watch, swipe up from the bottom of the screen to bring up the Control Center. (If you're in an app, touch and hold the bottom edge of the screen, then drag up the Control Center pane with your finger.)
Tap the AirPlay icon (the small triangle with concentric circles on top).
Tap ‌Powerbeats Pro‌ in the list of devices.
You can also open up the Settings app on the Apple Watch, go to the Bluetooth section, and choose your ‌Powerbeats Pro‌ earphones from the list of available devices. Tap to connect.