iOS apps can be deleted from an
iPhone
or
iPad
in several ways. In
iOS 13
and earlier, you could only delete apps from the Home screen by pressing and holding their icon to make them jiggle and reveal an X in the corner, after which another tap removed the app. However, ‌iOS 13‌ and
iPadOS
have switched things up a little.
Delete Apps From the Home screen
For instance, if you press and hold on an app icon on the Home screen, you may just trigger the app's widget (if it has one) displaying recent documents. The same action also lets you move the icon around the screen.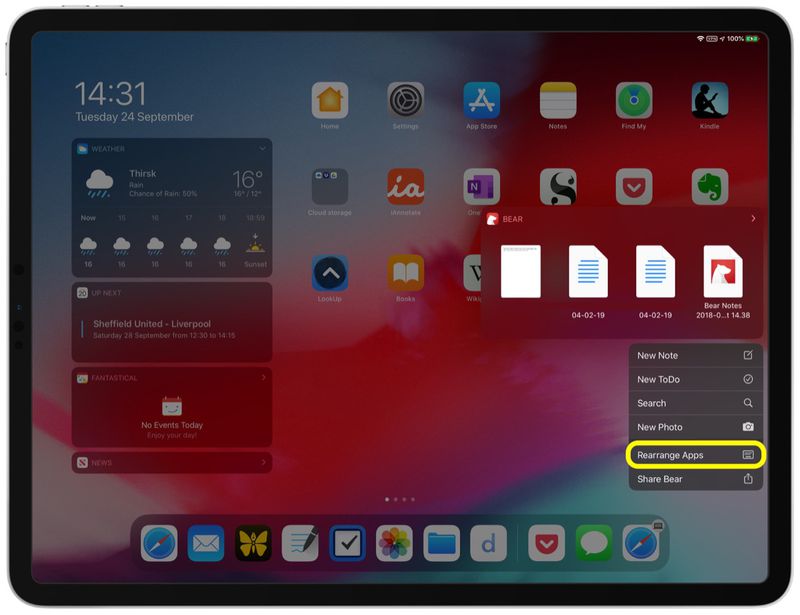 There are actually two slightly different ways to delete an app on the Home screen on an ‌iPhone‌ and ‌iPad‌. Press and hold the app for one second then select the
Rearrange Apps
action from the pop-up menu. This will make all apps on the screen wiggle and a small X appear in the corner of each icon in the traditional way, allowing you to remove them one by one.
The other way to get to this screen is to keep holding the app icon for at least two seconds – the pop-up menu along with any widget will disappear and the icon will hover under your finger and then jiggle, ready to be removed.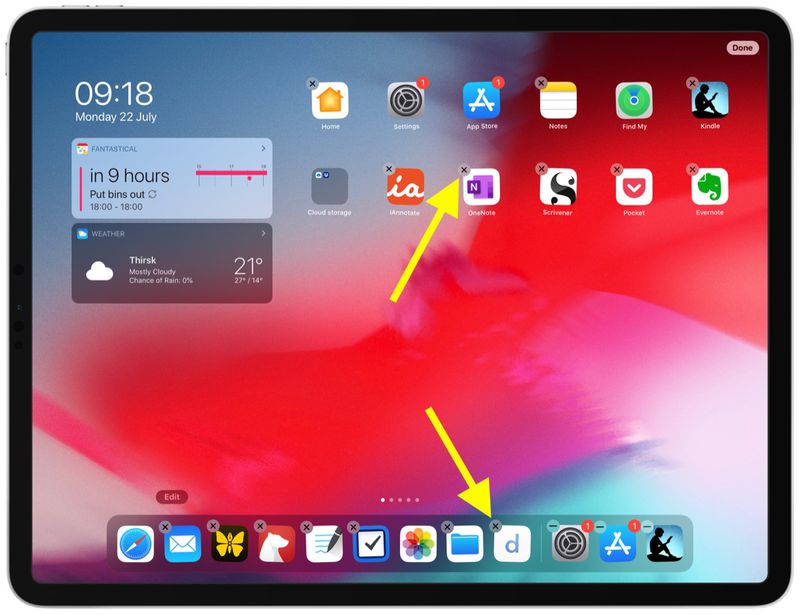 Delete Apps From the App Store
In ‌iOS 13‌ and ‌iPadOS‌, Apple has also added a way to delete apps from your device right from the ‌App Store‌. When you're updating apps on your device, or viewing apps that were recently updated, you can swipe left on any app in the list to bring up a
Delete
option.
It's a convenient way to get rid of unwanted apps as soon as you see them, without having to leave the ‌App Store‌, hunt down the app's icon on your Home screen, and remove it in the traditional manner described above. Here's how it works.
Launch the ‌App Store‌ app on your ‌iPhone‌ or ‌iPad‌.
Tap your account profile picture in the top-right corner of the screen.


Scroll down the Account pane to the Updated Recently section.
To remove an app that was recently updated, swipe left on it in the list and then tap the red Delete button that appears.
As you can see, in ‌iOS 13‌ Apple has moved the app update interface from the tabs along the bottom of the screen to make room for its new gaming service,
Apple Arcade
. So whenever you want to access app updates or delete apps, tap your profile picture at the top of the ‌App Store‌ and scroll down to the Pending Updates/Updated Recently sections.
Delete Apps on iPhones with 3D Touch
If using the traditional method of pressing on an icon on the Home Screen is only activating the Peek and Pop widgets for you, try it with a little less force so you're not engaging ‌3D Touch‌. Lightly place your finger on the icon instead, and you should see the little X and the jiggle motion soon appear.