When the iPhone X launched, there was no option to record multiple faces like there was to enter in multiple fingerprints with Touch ID, but that's something Apple changed in iOS 12 and later.
Now you can add a second face to Face ID, which is useful if you have a job where your face dramatically changes, such as with a surgeon's mask or protective goggles.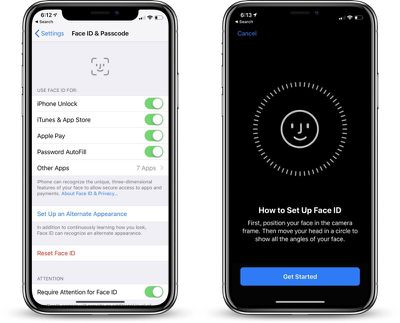 Face ID can learn to overcome items like hats, sunglasses, and scarves, recognizing you anyway, but having the option for a second face while you're wearing frequently worn items makes sure Face ID works more seamlessly.
Open the Settings app.
Scroll down to Face ID & Passcode and tap it.
Enter your passcode.
Choose the "Set Up an Alternate Appearance."
From there, you can set up Face ID as you did when you first purchased and set up your iPhone X for the first time.
The iPhone will walk you through the steps of positioning your face in the camera and then moving your head in a circle.
Once your alternate appearance has been entered, there's no option to delete it. To re-add an appearance, you will need to tap the "Reset Face ID" button that has replaced the "Set Up Alternate Appearance" option.


Be aware, there's no confirmation screen when you tap the "Reset Face ID" option. Once it's tapped, all of your Face ID data is cleared.