Tapbots, the developers behind popular Twitter client Tweetbot, today announced a public beta for their latest app, Pastebot. Pastebot is a clipboard manager for Mac designed to store everything you copy so that it can be re-accessed at any time.
Available as both a Mac menu bar app and a standard app, Pastebot supports Pasteboards, where snippets of text that you frequently copy and paste can be quickly accessed. Multiple Pasteboards can be created to keep all text clippings organized and the clipboard can be opened with a simple Command + Shift + V keyboard shortcut.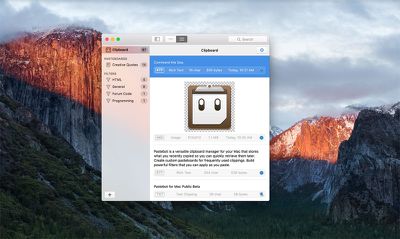 A range of filters are available that can be applied to copied text snippets for formatting purposes. Filter examples include Create List, Wrap in Paragraph Tags, Convert to Plain Text, Change Case, Emoji Remover, and more.
For the time being, syncing Pastebot content between Macs is not available because the feature uses CloudKit, which isn't available outside of the Mac App Store. Syncing will be available when the full app is released and Tapbots says Pastebot will work alongside with the new clipboard sharing features built into macOS Sierra.
The Pastebot public beta can be downloaded immediately from the Tapbots website. Following the beta testing process, Pastebot will be released on the Mac App Store as a paid app.