M1 vs. M3 iMac Buyer's Guide: 15+ Differences Compared
The iMac now features the M3 chip, replacing the M1 model that Apple introduced in April 2021, so how different are the two successive generations?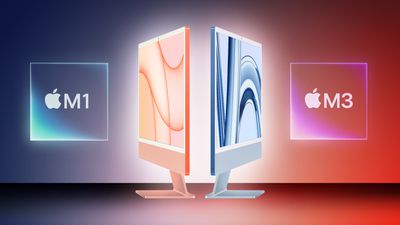 The 2021 ‌iMac‌ was the first of its kind to feature an Apple silicon chip, replacing previous Intel-based models with 21.5- and 27-inch displays. It offered an all-new ultra-thin design, a 24-inch Retina display, a six-speaker system with force-cancelling woofers, and an array of seven two-tone color options. The 2021 ‌iMac‌ has now been discontinued by Apple and prices at third-party resellers are falling. As such, some customers may be weighing up whether to upgrade to a 2021 or 2023 ‌iMac‌.
The two Apple silicon ‌iMac‌ models share the overwhelming majority of their features, so should you consider buying or sticking with the first-generation to save money? This breakdown also serves as a way to see all the differences that the 2023 ‌iMac‌ brings to the table.
| ‌iMac‌ (2021) | ‌iMac‌ (2023) |
| --- | --- |
| ‌M1‌ chip (5nm/N5) | M3 chip (3nm/N3B) |
| 3.20 GHz CPU clock speed | 4.05 GHz CPU clock speed |
| 7- or 8-core GPU | 8- or 10-core GPU |
| | New GPU architecture |
| | Dynamic Caching |
| | Hardware-accelerated ray tracing |
| | Hardware-accelerated mesh shading |
| Video decode engine | Higher-bandwidth video decode engine |
| Hardware-accelerated H.264 and HEVC | Hardware-accelerated H.264, HEVC, ProRes, and ProRes RAW |
| | ProRes encode and decode engine |
| | Support for AV1 decode |
| Neural engine | 60% faster Neural engine |
| Image signal processor (ISP) | "New" image signal processor (ISP) |
| 3.5mm headphone jack | 3.5mm headphone jack with support for high-impedance headphones |
| Wi-Fi 6 | Wi-Fi 6E |
| Bluetooth 5.0 | Bluetooth 5.3 |
| 68.25GB/s memory bandwidth | 100GB/s memory bandwidth |
| 8GB or 16GB unified memory | 8GB, 16GB, or 24GB unified memory |
Overall, the 2023 ‌iMac‌ is a very minor upgrade over the 2021 model, with the M3 chip being the most significant change. As a result, it is difficult to recommend upgrading from an ‌M1‌ model unless you specifically need better performance, hardware-accelerated graphics, or a larger quantity of memory. The new ‌iMac‌ is up to 2x faster than the prior generation with the ‌M1‌ chip, according to Apple, meaning that it should deliver a considerable performance improvement for those who need it.
Most users of the ‌M1‌ ‌iMac‌ will not be able to justify upgrading to the M3 ‌iMac‌, but customers coming from an older Intel-based machine or those who do not have one at all could still have good reason to prefer the latest model. For those upgrading from an Intel-based ‌‌iMac‌‌, Apple says that the new ‌‌iMac‌‌ is up to 2.5x faster than previous 27-inch models and 4.5x faster than previous 21.5-inch models.
The 2023 ‌iMac‌ is otherwise very similar to the 2021 model, so some customers who have very basic needs and are interested in buying an ‌iMac‌ may prefer to look for a discounted 2021 model. The ‌iMac‌ is priced starting at $1,299, so if you are not interested in its new features and can find the original model for substantially less, it may be worth getting that instead. Even so, it should be remembered that this is a much older model; the M3 model will be more future-proof and capable in the long term.