The Loop
By MacRumors Staff
The Loop Articles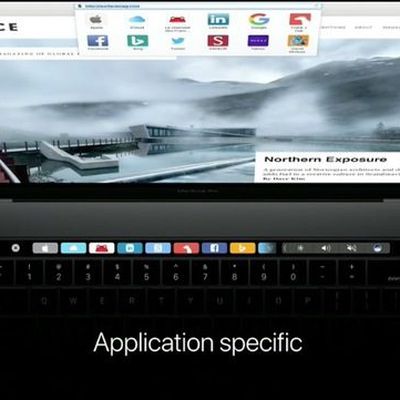 Less than a week ago Apple unveiled its new MacBook Pro line-up, with the focus of its "Hello again" event centering on the OLED Touch Bar that replaces the function keys on the company's 13-inch and 15-inch flagship models. Initial media reaction to Apple's event was positive, and most journalists in attendance were impressed after their limited hands-on time with the new machines. "There's...
Late yesterday, a report broke on Japanese site Kodwarisan claiming that Apple will be holding its annual fall media event on September 7th. Apple for the first time is expected to introduce new iPhone hardware at the event. But sources have now flatly denied to the well-connected Jim Dalrymple of The Loop that any such media event will take place on that date.Reports began to surface...

The trickle of information is continuing to come on the next major iPhone release. Earlier today we posted a sketchily sourced story out of Korea about the possibility of an iPhone-specific media event in the 4th week of June. While we did have some doubts about the story, Loop Insight has received word from their sources that the iPhone 5 will not launch in June. Reports on Tuesday suggest...

In what would likely be a major surprise to many Apple followers, The Loop's Jim Dalrymple reports that Apple is not planning to introduce any new hardware at its annual Worldwide Developers Conference, scheduled for June 6th through 10th. The conference has been consistently used to introduce new iPhone hardware over the last several years, with the company occasionally introducing other...

Earlier today, BGR reported that Apple will release iOS 4.3 today, three days ahead of the previously-announced Friday launch date. But according to The Loop, the early release will actually occur tomorrow. The speculation of iOS coming early seems to be solid, it's just the day that's off. If I were sitting waiting for iOS 4.3 to hit, I'd be ready tomorrow.Potential support for the notion of a...

The Loop reports that Apple is planning to cut significant numbers of software titles and peripherals from its retail store sales floors, moving to free up space to accommodate the more extensive Personal Setup service for Macs launched in January. Among the products that will no longer be displayed in the retail stores are printers, scanners and possible some hard drives. These peripherals will ...

Over the past day, a pair of analyst reports have suggested that Apple's second-generation iPad and fifth-generation iPhone will see their launches delayed beyond their previously-planned windows, due in part to design changes and other "issues" with production. But according to The Loop's Jim Dalrymple, these claims are simply untrue. While Dalrymple is careful to note that he doesn't know...