Rumors of iPhone 5, iPad 2 'Delays' Called Untrue [Updated]
Over the past day, a pair of analyst reports have suggested that Apple's second-generation iPad and fifth-generation iPhone will see their launches delayed beyond their previously-planned windows, due in part to design changes and other "issues" with production.
But according to The Loop's Jim Dalrymple, these claims are simply untrue. While Dalrymple is careful to note that he doesn't know when the next-generation versions of Apple's popular iOS devices will ship, he says that any claims that Apple is experiencing internal "delays" are false and that everything is on time according to Apple's schedule.
From what I've heard this morning both products are on schedule and will ship when they are supposed to. Only Apple knows exactly when that will be, but the products are not delayed.
Reuters is also reporting that claims of iPad delays are "not true".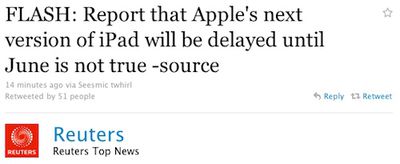 In his report, Dalrymple goes on to note the phenomenon of "delays" for products that haven't even been announced. Consequently, it is important to differentiate between the expectations of the media and customers, which are widely discussed, and those of Apple's internal plans, which are much less well-known.
It seems amazing that rumors of Apple missing product deadlines are running rampant when Apple hasn't even announced the product yet. The only deadlines that have been set are by the media, not Apple.
Having said that, the iPhone 5 and iPad 2 are not delayed.
Many observers have been looking forward to an iPad release in the same March-April timeframe seen last year, with the next-generation iPhone set to follow in its usual June-July launch window, and it appears that Apple may yet meet those external targets.
Update: Reuters has now published a brief article refuting the delay claims, and Barron's has added its voice to the growing chorus of denials.