Lenovo Articles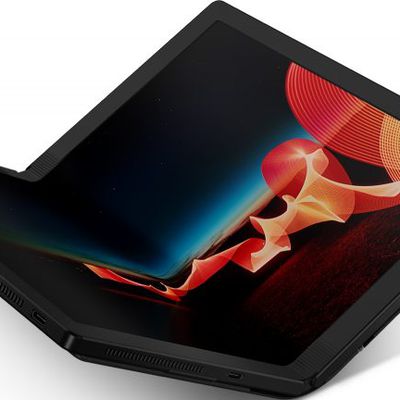 Lenovo last year unveiled a new foldable ThinkPad prototype, marking the first foldable PC design that we'd seen. Lenovo has continued to work on that prototype, and is now ready to bring it to market. At CES, Lenovo is showing off the new ThinkPad X1 Fold, a laptop PC with a 13.3-inch folding LED display with a 4x3 ratio. According to Lenovo, the ThinkPad X1 Fold is made from a...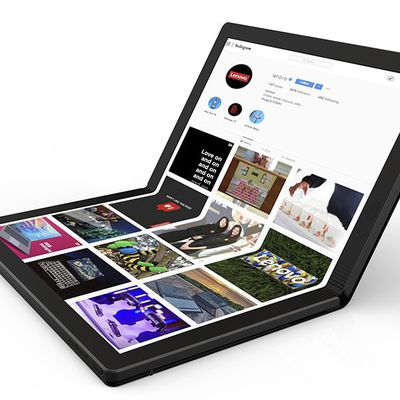 Lenovo today unveiled a new foldable ThinkPad, marking the first foldable PC that we've seen. The new foldable PC made its debut at the Lenovo Transform event at the Accelerate conference in Florida. Lenovo's new device is in the ThinkPad X1 family, but it has no specific name as of yet, nor is work on it finished as of yet. The new PC is not unlike some of the foldable smartphones that we've...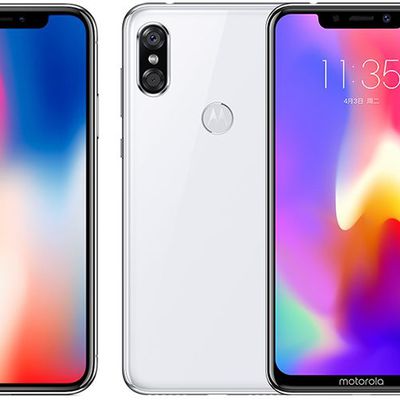 Motorola's latest P30 smartphone is making headlines this week, but not for an impressive feature set or a unique design. As it turns out, Motorola has opted to copy the design of the iPhone X, resulting in an Android smartphone that's nearly identical to Apple's flagship device. The P30, which features a 6.2-inch display, is by far the most iPhone X-like Android smartphone that we've seen...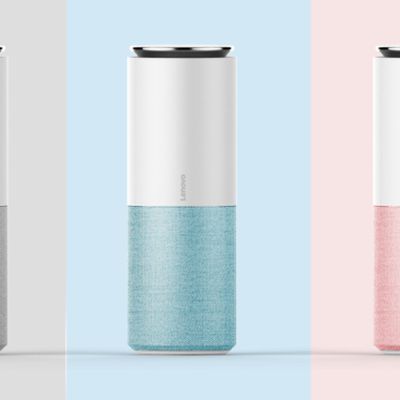 PC maker Lenovo today announced its first smart speaker with Amazon's voice-activated virtual assistant built in. Called the Lenovo Smart Assistant, the connected speaker integrates Amazon's Alexa Voice Services and offers the same speech-activated features as the Echo family of devices, but housed in a slightly redesigned unit. The speaker keeps the same cylindrical profile as Amazon's...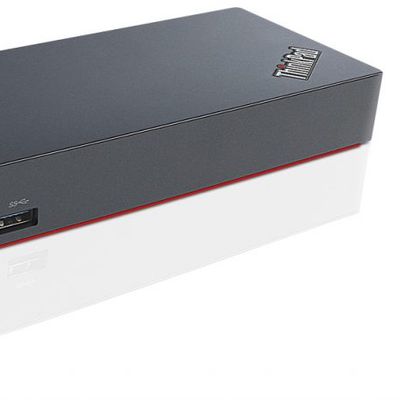 Lenovo recently announced a pair of docks in its "ThinkPad" accessory line, including one equipped with Thunderbolt 3 and one with USB-C (via Anandtech). The ThinkPad Thunderbolt 3 dock includes a Thunderbolt 3 port, two DisplayPort options, HDMI, VGA, Gigabit Ethernet, a headphone jack, and five USB-A 3.0 ports, with one that is always powered. Both images show the ThinkPad Thunderbolt 3 dock ...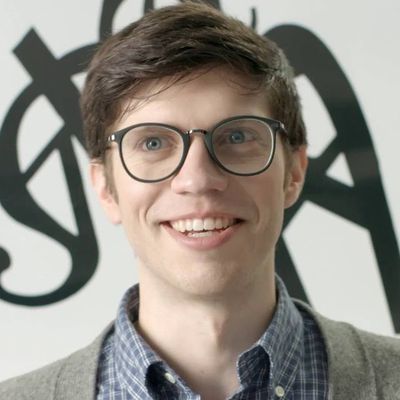 Lenovo recently launched a new ad for its Yoga 900S 2-in-1 notebook, mocking the "iGuy" stereotype of an Apple fan in comparing the device to the MacBook. The ad shows off the Yoga's reversible hinge, high-resolution touchscreen, and multiple ports, with the supposed Apple fan seeking in vain to show how the MacBook is better and more innovative than Lenovo's notebook. Amusingly, the ad even ...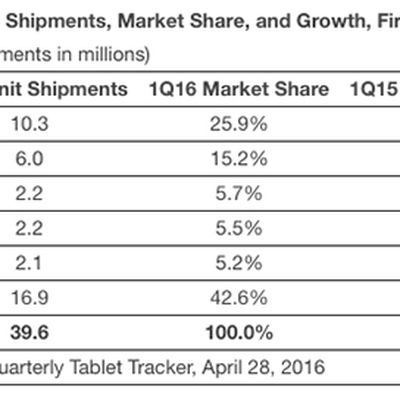 The latest data from research firms IDC and Strategy Analytics reveals that iPad market share declined for the ninth consecutive quarter as the worldwide tablet market continues to slow. Apple now has between 22.1 and 25.9-percent market share among tablet vendors, down from between 24.3 and 27.2-percent in the year-ago quarter. Apple reported iPad sales of 10.3 million during the March...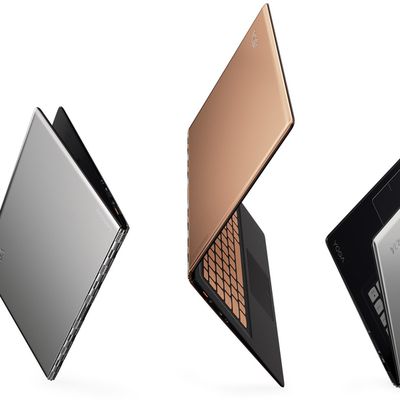 A wide range of notebooks and two-in-one laptops have been announced at CES 2016, including new Lenovo, LG and HP models that closely resemble the look, feel and size of Apple's 12-inch Retina MacBook, which starts at $1,299. Lenovo's 12-inch Yoga 900S convertible laptop Lenovo's new 12-inch YOGA 900S, for example, which it claims is the world's thinnest convertible laptop, has an ultra-thin...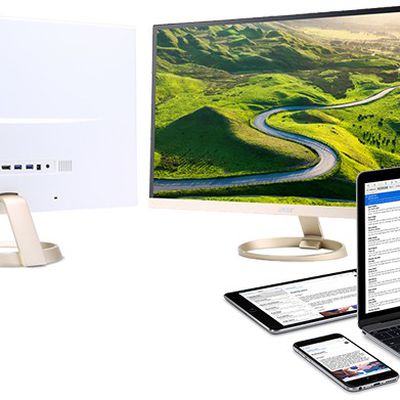 Acer has announced all-new H7 series monitors as the first to support USB Type-C, making them compatible with Apple's newer 12-inch MacBook. The monitors will be able to charge the MacBook, transfer data and display content over one USB-C cable, eliminating the need for multiple cables and adapters. Acer's new 25-inch and 27-inch H7 series USB-C monitors The monitors will be available in...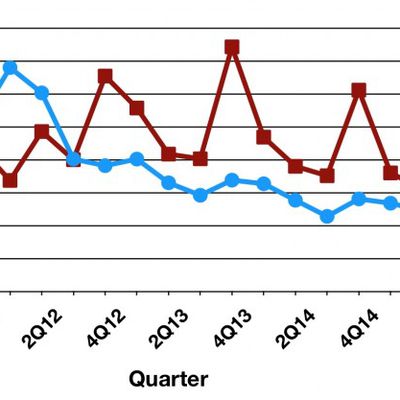 The latest numbers from market research firm IDC's Worldwide Quarterly Tablet Tracker show that Apple remains the largest vendor in a declining tablet market, shipping 10.9 million iPads in the second quarter of 2015. While the iPad continues to be the best-selling tablet, its worldwide market share fell below 25% as Apple faced increased competition from low-cost rivals Lenovo, Huawei and LG. ...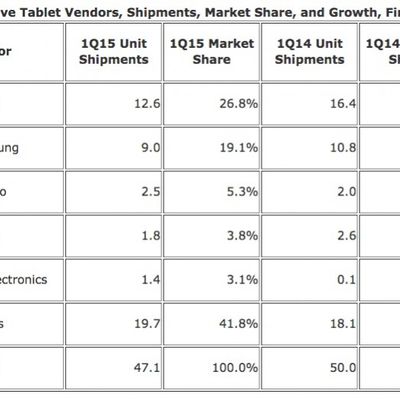 The latest numbers from market research firm IDC's Worldwide Quarterly Tablet Tracker reveal that Apple continues to be the largest vendor in a declining tablet market, shipping 12.6 million iPads in the first quarter of 2015 to capture a 26.8% share of the global tablet market. Apple maintained the top position despite facing a 22.9% decline in tablet shipments compared to the year-ago quarter. ...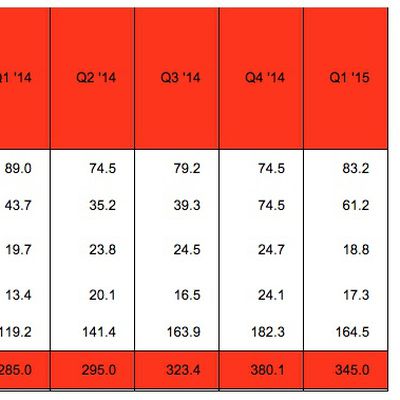 The latest numbers from Strategy Analytics reveal that Samsung surpassed Apple to reclaim its position as the world's largest smartphone maker in the first quarter of 2015. The two smartphone vendors were previously tied in the fourth quarter of 2014 after Apple matched Samsung with 74.5 million smartphones shipped on the strength of the iPhone 6 and iPhone 6 Plus and busy holiday shopping...