Acer and Lenovo Debut First USB-C Monitors, Compatible With Retina MacBook
Acer has announced all-new H7 series monitors as the first to support USB Type-C, making them compatible with Apple's newer 12-inch MacBook. The monitors will be able to charge the MacBook, transfer data and display content over one USB-C cable, eliminating the need for multiple cables and adapters.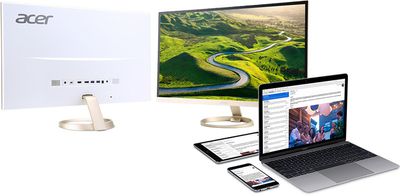 Acer's new 25-inch and 27-inch H7 series USB-C monitors
The monitors will be available in 25-inch and 27-inch screen sizes with 2,560×1,440 pixels resolution, Acer TrueHarmony and DTS Sound, HDMI 2.0 ports and 100% sRGB coverage. The H7 series launches in the U.S. and other North American markets in February with prices starting at $499.99. Availability in other regions will follow.
Lenovo has also announced the ThinkVision X24 Pro and ThinkVision X1 as its first two USB Type-C monitors, per AnandTech. The bezel-free ThinkVision X24 Pro features a 1,920×1,080 resolution IPS display, USB-C and Mini DisplayPort, an Intel RealSense 3D camera, two 3W speakers and more. The monitor starts at $399 and ships in May.

Lenovo ThinkVision X24 Pro, left, and ThinkVision X1 USB-C monitors
The 27-inch ThinkVision X1 has an ultra-thin 7.5mm design, 3,840×2,160 resolution, USB-C and DisplayPort 1.2 ports, HDMI 2.0, 99% sRGB coverage and more. Apple's 12-inch MacBook includes support for DisplayPort 1.2 through USB-C, so it will be able to power this Ultra HD monitor at 60 Hz. The ThinkVision X1 will cost $799.