Samsung Overtakes Apple to Reclaim Title of World's Largest Smartphone Maker
The latest numbers from Strategy Analytics reveal that Samsung surpassed Apple to reclaim its position as the world's largest smartphone maker in the first quarter of 2015. The two smartphone vendors were previously tied in the fourth quarter of 2014 after Apple matched Samsung with 74.5 million smartphones shipped on the strength of the iPhone 6 and iPhone 6 Plus and busy holiday shopping season.
Samsung recaptured the number one position with 83.2 million smartphones shipped in the first quarter, while Apple trailed in second with 61.2 million smartphones shipped during the three-month period ending March. Lenovo-Motorola finished a distant third with 18.8 million smartphones shipped, followed by Huawei at 17.3 million and 164.5 million smartphones shipped by other vendors.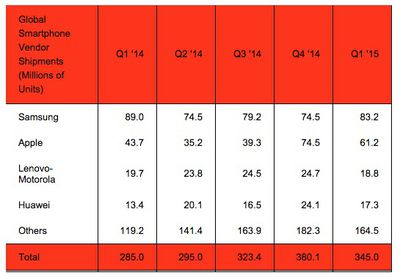 Despite its first place finish, Samsung's global share of the smartphone market dropped to 24.1% in the first quarter of 2015 compared to 31.2% in the year-ago quarter. Apple's global smartphone market share grew marginally to 17.7% in Q1 2015 compared to 15.3% in Q1 2014. The global smartphone market experienced 21% year-over-year growth overall, from 285 million units in Q1 2014 to 345 million in Q1 2015.


While it was impressive that Apple was able to tie Samsung during the fourth quarter, based on the popularity of the iPhone 6 and iPhone 6 Plus, it was highly probable that Samsung would eventually reclaim its title as number one again. The electronics giant's smartphone lineup is much larger than the iPhone lineup, with at least a half-dozen current-generation devices available compared to only a handful of iPhones.