Lenovo, LG and HP Introduce MacBook Lookalikes at CES 2016
A wide range of notebooks and two-in-one laptops have been announced at CES 2016, including new Lenovo, LG and HP models that closely resemble the look, feel and size of Apple's 12-inch Retina MacBook, which starts at $1,299.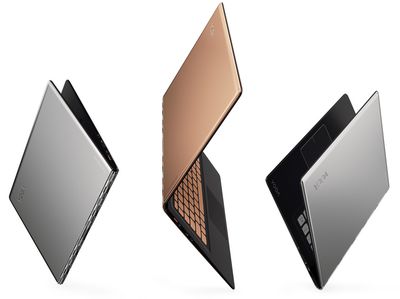 Lenovo's 12-inch Yoga 900S convertible laptop
Lenovo's new 12-inch
YOGA 900S
, for example, which it claims is the world's thinnest convertible laptop, has an ultra-thin 0.5-inch carbon fiber design that weighs around 2.2 lbs -- slightly heavier than the 2.03-lb Retina MacBook.
The two-in-one Windows 10 laptop is powered by an Intel Core m7 processor and features a 360-degree watchband hinge, Dolby Audio Premium, up to 10.5 hours of video playback on a single charge and an optional QHD screen resolution (2,560x1,440 pixels). The laptop ships in March 2016, starting at $1,099.

LG's 15-inch Gram 15 notebook is the lightest 15-inch notebook ever
A closer match to the Retina MacBook is LG's new Gram 15 laptop, which essentially looks like a 15-inch version of Apple's 12-inch notebook -- it is even available in a strikingly familiar gold color. Weighing just 2.16 lbs, the Gram 15 is the lightest 15-inch laptop ever, and it is also just 0.6 inches thick.
LG's Gram 15 runs Windows 10 and features a sixth-generation Core i5 or i7 processor, 1080p IPS display, USB-C, HDMI, USB 3.0, microUSB and microSD slots and battery life up to 7 hours on a single charge, according to The Verge. LG has not confirmed the notebook's price or availability.

HP's 12.5-inch EliteBook Folio features a bezel-free 4K display
Rounding off the trio is HP's new EliteBook Folio, a 12.5-inch Windows 10 laptop that is 0.49 inches thick and weighs less than 1 kg (2.2 lbs). The business-class notebook has a tapered metallic design, akin to the Retina MacBook, and features an Intel Core M processor and 4K bezel-free display at 352 PPI.
HP's EliteBook Folio will be released in March, priced from $999, according to Engadget.