iOS 17 Notes and Reminders Features
Apple's iOS 17 update has a handful of new features for the Notes and Reminders app, making them more useful for those who prefer the default Apple apps. There are no major overhauls, but the additions do add to the utility of the apps and are changes that some have wanted for some time.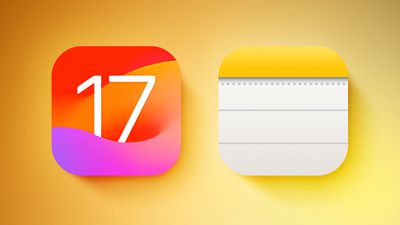 This guide highlights everything that's new in both the Notes and Reminders apps.
Notes
Linking Notes
It's now possible to link one note to another note, useful for connecting two related notes to one another for Wiki-style documentation.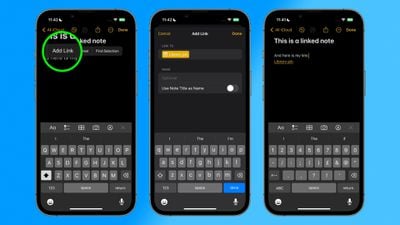 Inline PDFs and Scanned Documents
The Notes app supports inline PDFs, which means you can insert a PDF into Notes and then read, annotate, and collaborate on PDFs.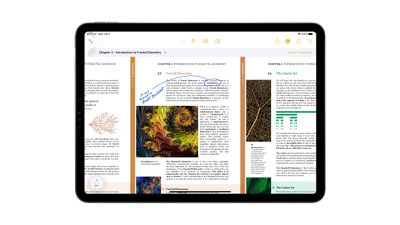 This functionality also works for scanned documents, and it is available on both the iPhone and the iPad.
Updated Formatting
Notes has gained an option for creating block quotes, plus there's a new Monostyled format to choose.
Pages
A Note from the ‌iPhone‌ or ‌iPad‌ can be opened up in the Pages app, providing additional layout and formatting options.
Reminders
Grocery Sorting
When you create a list with the new "Groceries" list type, you can input various foods and sundries and have them organized automatically by category. The organization makes it easier to find what you need when you're at the grocery store.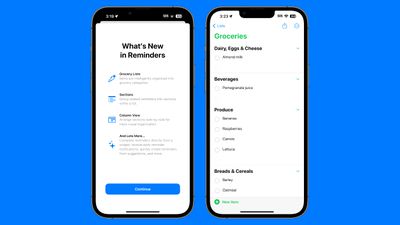 Available category types include Produce, Breads & Cereals, Frozen Foods, Snacks & Candy, Meat, Dairy, Eggs & Cheese, Bakery, Baking Items, Household Items, Personal Care & Health, and Wine, Beer & Spirits.
If the ‌‌iPhone‌‌ doesn't recognize where an item should go, it remains uncategorized. It does recognize specific brands and types of food like "Sour Patch Kids," so it is a fairly robust solution for grocery shopping. You can also create your own categories in the grocery list.
Custom Sections
Sections or categories are turned on by default for the Grocery list, but any Reminder list created in ‌iOS 17‌ can have sections added to it.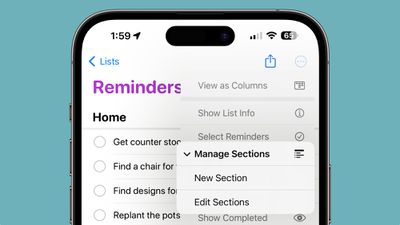 In any list, tap on the three dots to get to the options interface. From there, tap on New Section to add a section to the list. You'll need to manually organize items in the list in each section, but it can be done with simple drag and drop gestures.
Column View
In the same options interface, there's a new "View as Columns" option that will show each section in a side-by-side view. You can swap between column and list view in the options menu.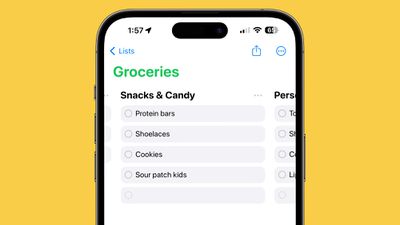 Interactive Widgets
‌iOS 17‌ brings interactive widgets to the Lock Screen and the Home Screen, and Reminders is one of the built-in apps that can best take advantage of this feature. Reminders in the Reminders widget can be checked off right from the ‌Home Screen‌ or the Lock Screen without having to open up the Reminders app.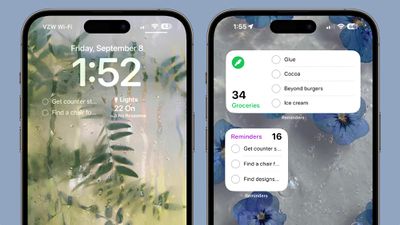 Early Reminders
If you add a reminder with a specific date, you can opt to receive an early reminder to get a warning ahead of time. You can get a notification 1 day before, 2 days before, 1 week before, 2 weeks before, 1 month before, 3 months before, and 6 months before, plus there's also an option to set a custom early reminder time.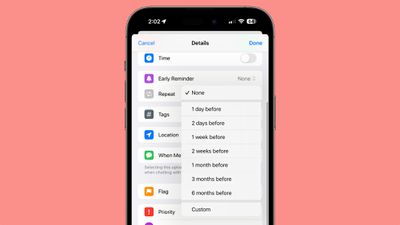 Read More
Additional info on the new features in the ‌iOS 17‌ update can be found in our iOS 17 roundup.