The Apple Watch is the most popular smartwatch on the market, yet battery life has never been its strong suit. That said, Apple has made improvements in this area with successive models, and while the company still only promises all-day battery life on a single charge, many Series 2 and 3 owners find they can get a lot more.
Of course, how long a given Apple Watch lasts between charges depends almost entirely on how it's used. With that in mind, this article aims to help wearers optimize their usage and get the best battery life they can reasonably expect based on their individual needs. Read on for some of our favorite power-saving tips for Apple Watch.
Subscribe to the MacRumors YouTube channel for more videos.
Apple Watch Display Settings
Wake Screen on Wrist Raise
It shouldn't come as a surprise that the Apple Watch's OLED display draws a significant amount of power. If it tends to light up when you least expect it, and you'd rather manually activate it with a button press or by tapping the display, then try turning off the automatic wake screen feature. To do so, open Settings on your Apple Watch, tap General -> Wake Screen, and toggle off Wake Screen on Wrist Raise. (You can also find this setting in the Watch app on your iPhone.)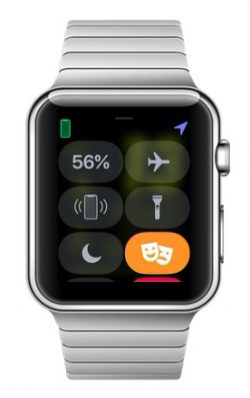 Theater Mode
To some users, turning off the automatic wake screen feature might seem like overkill. Perhaps you only accidentally wake the screen during certain times of the day – when you're in bed, for instance.
In that case, you're better off making selective use of the Theater Mode. To enable it, swipe up from the bottom of any clock face to reveal the Control Center, and tap the symbol showing two theater masks. Note that Theater Mode also silences notifications, which is why it's best kept for bedtime or trips to the movies.
Adjust Brightness
Many Apple Watch owners find that they can easily get along with the OLED display set at its lowest and least energy-sapping brightness level. To adjust the brightness, select Settings on your Apple Watch, tap Brightness & Text Size, and alter the level to suit. (You can also find this setting in the Watch app on your iPhone.)
OLED panels don't expend energy on displaying true black colors – those pixels simply remain unlit. In other words, the more screen space your chosen clock face takes up (if it displays a photo, say) the more likely it is to drain battery whenever it's activated. For this reason, you might want to consider using a more minimalist watch face and disabling any complications you don't need to see every time you raise your wrist.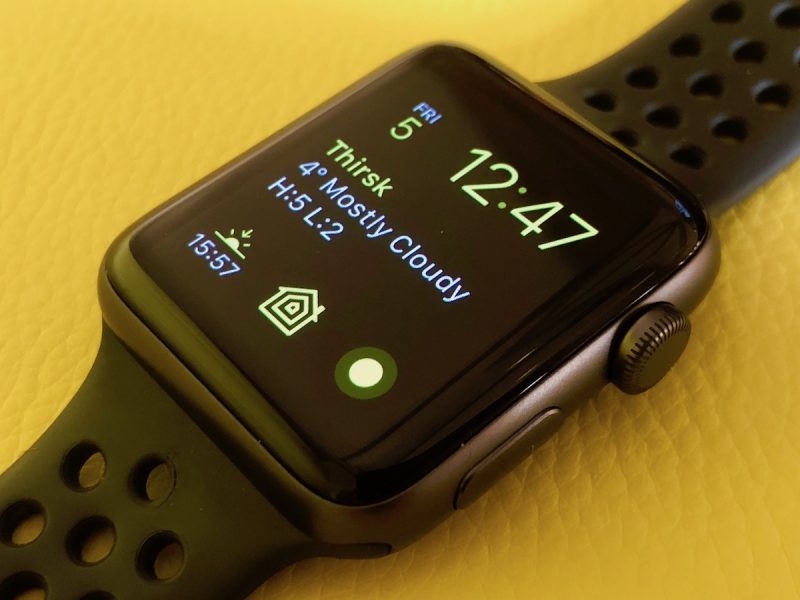 Apple Watch Apps
Apps and Complications
Another good reason to minimize your use of complications is that many of them require frequent refreshing in order to display up-to-date information, which uses additional power. So if you rarely tap it, then turn it off using the clock face customize mode, which is activated with a single long press on the clock face screen.
The same goes for third-party apps, many of which frequently refresh in the background whether you use them or not. If you find yourself regularly reaching for your iPhone to check social media, then ask yourself, do you really need that Twitter function on your wrist? Only install apps on your Apple Watch that benefit you by being there.
It's worth extending this general policy to clock faces, too. There's anecdotal evidence that uninstalling the ones you don't use can save power by reducing background refreshes. To remove watch faces, open the Watch app on your iPhone, tap Edit next to My Faces, and tap the minus buttons in the list. The Siri watch face in particular is often cited as a battery drainer, so if you don't use it, ditch it.
Installation Creep and Refresh Management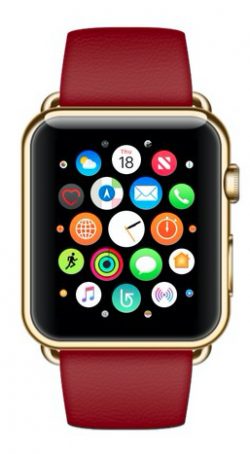 These days many third-party iOS apps include an Apple Watch component which gets added automatically upon installation. To prevent this default behavior, open the Watch app on your iPhone, select General and toggle off Automatic App Install.
Another way of restricting the number of apps that draw power is to selectively control which ones refresh in the background. You can manage this on an individual basis from the Watch app on your iPhone: Select General -> Background App Refresh, and toggle the sliders for each installed app. Remember, only leave this enabled for apps with a functional dependency on up-to-date data, such as weather and calendar apps.
Notifications
Notifications come down to personal preference, but every additional alert on your wrist sucks a bit more power from your watch's battery. Look at your usage and try to assess which notifications are worthwhile, and which ones could just as easily be picked up on your iPhone at a later time.
To manage notifications on an app-by-app basis, open the iOS Watch app and select Notifications. Pay particular attention to third-party apps, listed in the second column, and turn off any pointless permissions that mirror your iPhone alerts.
With judicious use of these settings, you should be able to recognize if or when your needs change over time. For example, some app notifications have a shelf life – if they start to bug you, turn them off. That includes Activity and Breathe reminders. Be ruthless.
When it comes to email alerts, you may find they're only worth the bother if the emails come from specific addresses. So add these to your VIP list in the Mail app, and then disable all watch Mail notifications except for VIP alerts.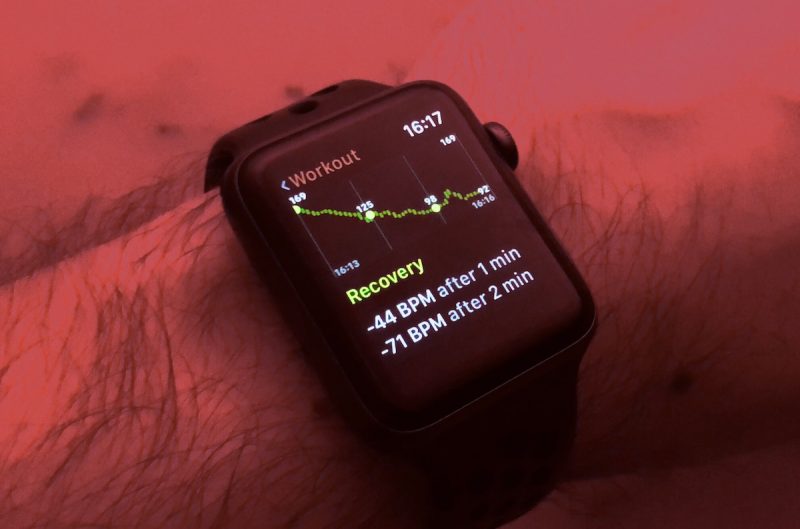 Other Power-Saving Settings
Heart Rate
If you're only interested in tracking distance or speed (or both) during running or walking workouts, Apple recommends turning on Power Saving Mode to disable the heart rate sensor. To do this, open the Watch app on your iPhone, go to My Watch -> Workout, and toggle on Power Saving Mode. (The same setting can be found on your Apple Watch in Settings -> General -> Workout.) Note that when the heart rate sensor is off, calorie burn calculations may not be as accurate.
If you're training for a marathon or regularly participate in long-duration workouts, consider using a Bluetooth chest strap instead of the built-in heart rate sensor. To connect the Bluetooth chest strap to your watch, make sure it's in pairing mode, then open Settings on your Apple Watch, select Bluetooth, and choose from the list of Health Devices.
Hey Siri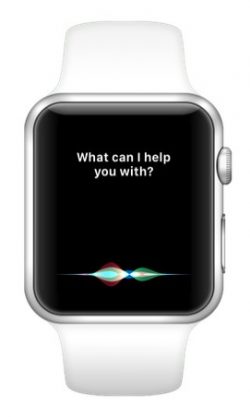 Like on your iPhone, the "Hey Siri" feature on your Apple Watch allows you to use voice search and control other features without touching the device. Your watch's mic only listens for the magic phrase when the display is activated, but it does use a bit more power. So if you simply don't use the function, turn it off. To do so, open Settings on your Apple Watch, select General -> Siri, and toggle it off.
Remember, you can still activate Siri anytime by long-pressing your watch's Crown. Using the same Settings menu above, you can also make Siri respect Silent Mode when it's on, as well as limit spoken responses so you only hear them when headphones are connected.
Haptic, Silent Mode and Do Not Disturb
Theater Mode, mentioned earlier, offers a middle ground between two additional settings: Silent Mode and Do Not Disturb. Silent Mode mutes audible alerts and can be turned on permanently if you're happy to rely on haptic vibrations for alerts, calls, alarms, and timers.
With Do Not Disturb enabled, your watch activates the same mode on your iPhone, silencing audible and vibration-based alerts across both devices unless they come from people in your Favorites contact list. Some Apple Watch users turn on both Theater Mode and Do Not Disturb when wearing their devices to bed, particularly if they track their sleep using a third-party app like AutoSleep.
To turn on Silent Mode on your Apple Watch, swipe up from any clock face to reveal the Control Center, and then tap the button with a bell symbol, so that the button turns red and the bell is crossed out. To activate Do Not Disturb from the Control Center, tap the button with a crescent moon so that it turns purple.
Note that you can also adjust haptic strength on your watch by going to Settings -> Sounds & Haptics. Many users find the lowest haptic setting, which draws the least power, to be perfectly adequate, with or without the Prominent Haptic option turned on.

Fixing Persistent Battery Issues
Check Your Bluetooth
If you've had no luck improving the battery life of your Apple Watch using the above tips, there are still a few steps you can take.
It's worth noting at this point that disabling Bluetooth on your iPhone increases the battery drain on your Apple Watch, so keep Bluetooth enabled on your phone and see if that helps. Also, make sure you're updated to the latest software: Open the Watch app on your iPhone, and select General -> Software Update.
If your watch battery drains unusually fast, try a hard reset: Hold down both side buttons for about 10 seconds until the display goes off and the device reboots. If that doesn't work, it's time to try resetting the watch to factory defaults.
Reset Apple Watch to Factory Default Settings
To do this on your Apple Watch, open Settings and select General -> Reset. (The same option lies at the bottom of the iOS Watch app's General menu.) This action erases everything off your watch, including any media, data, settings, messages, and so on. You'll also need to re-pair the watch with your iPhone after the process is complete, so treat it as a last resort.
Note that after a new pairing or update, your watch may take a few days to learn and adapt to your usage, before smoothing out into a more consistent balance between battery life and performance.
If none of these tips work, check to see if your Apple Watch is still under warranty. A standard one-year warranty is included with every Apple Watch (Stainless Steel, Aluminum, and Nike+) and a two-year warranty is included with Apple Watch Edition and Hermès models. All warranties include service coverage for a defective battery. If your watch is out of warranty, Apple offers a
battery service
, although prices may vary depending on where you live.