Apple on Friday made the unprecedented move of canceling work on the AirPower, the wireless charging mat that was supposed to charge the Apple Watch, iPhone, and AirPods all at once.
There are already a number of AirPower-like alternative products on the market, and we're likely going to be seeing additional replacements in the future. None of these accessories do exactly what the AirPower promised because there are dedicated spots to charge each device, but each option will charge more than one device at one time.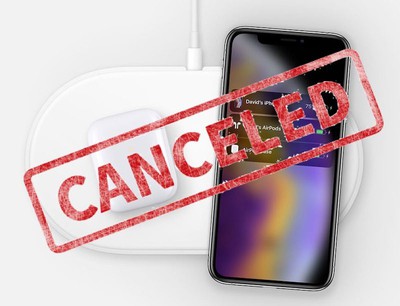 1. Nomad Base Station Apple Watch Edition ($139) - Nomad's Apple Watch Base Station has an Apple Watch charging puck for charging the Apple Watch, along with a double coil Qi wireless charging pad. You can use the wireless charging pad to charge the ‌iPhone‌ horizontally, but if you put the ‌iPhone‌ vertically, it frees up a little spot for charging the ‌AirPods‌, so all three devices charge at one time. We reviewed the Nomad Base Station and liked it quite a lot, though it is quite expensive.


2. Belkin Boost Up Wireless Charging Dock ($127) - This is another expensive dock, but it's another that we reviewed and liked quite a lot. Belkin's Boost Up Wireless Charging Dock has an upright charging space for wirelessly charging an ‌iPhone‌ and a space for the Apple Watch, but this isn't a dock suitable for the ‌AirPods‌. Still, it's a good option for dual device charging.
3. ZENS Dual + Watch Wireless Charger (99 euros) - The Dual + Watch Wireless Charger from European company ZENS is another option that we recently reviewed and were impressed with. It has a stand for charging an Apple Watch, along with a base that can wirelessly charge two iPhones at one time. It's 99 euros which is pricy, but ZENS does ship worldwide. This dock is temporarily out of stock, but it's coming back in May.


4. NytStnd AirPods Trio ($109) - The Nytstnd will charge your ‌AirPods‌, Apple Watch, and ‌iPhone‌ all at once, but there's a catch - there's no wireless charging for ‌AirPods‌. The Apple Watch charges via a standard Apple Watch charging puck (that you supply), while there's a wireless charging pad for ‌iPhone‌, a Lightning port for ‌AirPods‌, and one extra Lighting port. On the plus side, you can charge all three items at once and there's also an extra spot for storing keys or other odds and ends. You also don't need the new ‌AirPods‌ 2 with Wireless Charging Case to use it.


5. Unravel Wireless Charger ($99) - This interesting little charger features three charging stations, one for ‌AirPods‌, one for Apple Watch, and one for ‌iPhone‌. You can lay them flat or roll them up in a configuration that works for you if you only need to charge two devices at once. We haven't tried this, but it's a neat design and the reviews look to be largely positive.

Affordable AirPower Alternatives From Amazon
If you go to Amazon and type in "‌AirPower‌" or "Wireless Charging Station" you'll see a whole slew of cheap wireless chargers that promise to charge your Apple Watch, ‌iPhone‌, and ‌AirPods‌ all at once. We haven't tested any of these options and can't verify whether they work, and at these price points, there's no way they're using Apple-certified components.


Still, if you're looking for an alternative to the ‌AirPower‌ that's super affordable, these might be what you want. We'll list some of the options that are getting better ratings below.
More Charging Options
The ‌iPhone‌ and the ‌AirPods‌ Wireless Charging Case will work with any Qi-based wireless charger on the market, so there are an endless number of single device wireless chargers you can get as well.

Feedback
Have a favorite ‌AirPower‌ alternative that we didn't list here? Let us know in the comments.