Nomad, a company that makes various cables, chargers, cases, and other accessories for Apple devices, recently came out with an updated version of its Base Station charger.
While the original Base Station is designed to wirelessly charge two iPhones at once, the updated Apple Watch version is able to charge an iPhone and an Apple Watch.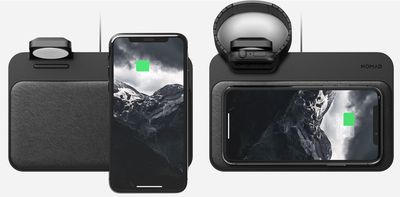 The Base Station Apple Watch Edition features a flat, leather covered aluminum wireless charging pad that has an elevated Apple Watch magnetic charging puck on the left side to accommodate an Apple Watch. The positioning of the Apple Watch charger allows for the Apple Watch to be placed into nightstand mode, ideal for charging on a bedside table.
Design wise, the Base Station is a sleek black color, which will fit well into any modern office or room setup. The bottom features two non-slip rubber strips to keep it in place, and the leather pad keeps the iPhone from moving around while charging while also offering a soft place to put it.


When it comes to size, because this is a flat charger, it takes up more space than an upright charger might. It measures in at a little over six inches long and about 4 inches wide, so it's not huge, but it's definitely bigger than some other combined Apple Watch/iPhone chargers. I'd like to see Nomad make one of these with a smaller footprint that has an upright charger option and an Apple Watch charging option.




There are a total of three wireless charging coils built into the Base Station for charging the iPhone, so it can charge an iPhone that's placed horizontally across the charging pad or vertically on the right side.


The original Base Station can charge two iPhones at once, but because of the positioning of the Apple Watch charging puck, this one works with just one iPhone. It does comfortably fit any size iPhone, though, from the 4.7-inch iPhone 8 to the 6.5-inch iPhone XS Max.
You can't fold down the Apple Watch portion of the charger, which means it's not ideal for taking along when traveling. A fold-down solution would have allowed the Base Station to work either with an Apple Watch or two iPhones, but since the Apple Watch charger is a permanent fixture, that's not a possibility.


On its website, Nomad says that the Apple Watch Base Station can charge three devices at the same time, but what this is referring to is a Qi-enabled adapter for the AirPods. So if you happen to have a wireless charging adapter like the HyperJuice for your AirPods, you can wirelessly charge the AirPods on the Base Station along with an Apple Watch and an iPhone.
For this setup to work, the wireless charging case needs to be positioned on the left side under the Apple Watch charging puck, and the iPhone needs to be positioned vertically on the right side of the Base Station.
When Apple eventually releases an AirPods case that is able to charge the earbuds wirelessly, it will also work with the Base Station provided it supports Qi wireless charging as rumors have suggested.
There are three LEDs on the front of the Base Station that will let you know how many devices are being charged at once. It is equipped with an ambient light sensor, so at night, the light dims down and won't disturb sleep, which is a thoughtful design choice. A white light indicates a fully charged device, while amber lets you know that a device still needs charging.


Since there are three coils in this Base Station, I had no problem getting my iPhone to charge right away when I put it on the charger horizontally, but with the iPhone XS Max, I did have to fidget with it a bit to get it to charge when it was placed vertically on the right side, which is standard operating procedure with most flat chargers like these.
The Base Station itself is powered by an included cord and power adapter, which is rather large. On the plus side, though, the adapter comes with different swappable plugs for use in Europe and the UK, so you could potentially travel with it.
This is a 7.5W wireless charger, which means it's charging Apple's iPhones at the maximum charging speed that Apple supports. In my testing, my iPhone X placed in airplane mode charged from 1 percent to 44 percent in an hour, which is about the charging speed that I see from most 7.5W wireless charging options.


Like all Qi-based wireless chargers the Nomad works with Apple's iPhones and other smartphones that have wireless charging support, as many Android devices do. For Android devices, the Base Station supports charging speeds up to 10W.
You can charge your iPhone with the Base Station while the iPhone is in a case, and in our experience, most cases except for cases that are super thick, have wallet inserts at the back, or that have metal components will charge fine.

Bottom Line
This is an attractive, high-quality charging station that fits in well with modern office designs, and it offers an all-in-one solution for charging both an Apple Watch and an iPhone at the same time.
It is, however, expensive at $120, which is going to deter some buyers. Standalone Apple Watch and wireless iPhone charging solutions are available at more affordable price points, as are combined charging options.


Nomad is using Apple-certified components, including an Apple-approved Apple Watch charger, and Apple certification doesn't come cheap, which explains the high price tag. The price is definitely going to be a dealbreaker for some people, but those who don't mind paying a premium for design and all-in-one charging will want to give the Nomad Base Station a look.

How to Buy
The Apple Watch version of the Base Station can be purchased from the Nomad website for $119.95. There are a limited number of Base Stations available, but customers can sign up to be notified when a restock happens.
Note: Nomad provided MacRumors with an Apple Watch Base Station for the purpose of this review. No other compensation was received.