Since 2020, Apple has been working to eliminate Intel chips by transitioning the entire Mac lineup to Apple silicon chips, and 2023 is expected to be the year when the transition is completed. One of the major Mac lines still using Intel chips is the Mac Pro, but a refreshed model is in the works.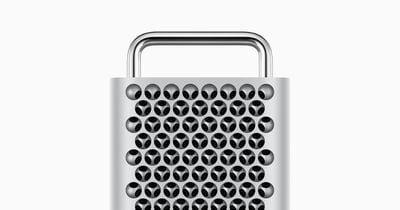 This guide covers everything that we know about Apple's plans for the updated ‌Mac Pro‌.
Mac Studio and the Future of the Mac Pro
There were rumors of a smaller version of the ‌Mac Pro‌ in development, but that machine turned out to be the Mac Studio, a separate product line introduced in March 2022. The Mac Studio is a cross between a ‌Mac Pro‌ and a Mac mini, and it features high-powered M1 Max and M1 Ultra chips. The ‌M1 Ultra‌ in the ‌Mac Studio‌ is already faster than the 28W Intel Xeon chip, but Apple still has plans to refresh the ‌Mac Pro‌.
At the ‌Mac Studio‌ event, Apple made it clear that the smaller desktop machine is not a Mac Pro replacement. Apple senior vice president of Hardware Engineering John Ternus went as far as confirming that there is a ‌Mac Pro‌ coming "another day" to clear up any confusion about the continuance of the ‌Mac Pro‌ product line, and while we were expecting a new ‌Mac Pro‌ in 2022, rumors now suggest it won't arrive until 2023.
Design
The ‌Mac Pro‌ is expected to continue to use the same stainless steel frame and aluminum housing with dual-sided logic board and easy access to the interior for adding and removing components. There's been no word on whether the thermal architecture will change, and it will still feature the same three-dimensional interlocking hemispheres for heat dissipation purposes.
There will be no external design changes to the ‌Mac Pro‌, so while there will be internal updates, the exterior will likely remain largely the same. The main focus will be on the transition away from Intel chips to pro-level Apple silicon chips.
Apple Silicon Chips
The high-end ‌Mac Studio‌ is equipped with an ‌M1 Ultra‌ chip that's essentially two ‌M1 Max‌ chips connected together, and the ‌M1 Ultra‌ features a 20-core CPU and up to 64-core GPU. It outperforms the 28-core Xeon ‌Mac Pro‌ with the highest-end graphics card, and the new ‌Mac Pro‌ is expected to feature a successor to the ‌M1 Ultra‌ that could be based on the M2 chip, the ‌M2‌ Ultra.
There were initial rumors that Apple would design an even more powerful chip called the M2 Extreme, but Apple has shelved that development. The ‌M2‌ Ultra will feature up to a 24-core CPU, up to a 76-core GPU, and at least 192GB RAM at a maximum.
An ‌M2‌ Extreme chip would have featured up to a 48-core CPU and up to a 152-core GPU, but it has been scrapped due to cost and manufacturing complexities.
User Upgrades
The new Apple silicon ‌Mac Pro‌ models will not feature user-upgradeable RAM because memory is tied to the ‌M2‌ Ultra motherboard, and the same goes for the GPU. Apple's M-series chips do not support external GPUs at the current time, so it is not likely that there will be GPU upgrades available to be added on.
It's looking like ‌Mac Pro‌ users may be limited to SSD upgrades along with media and networking card additions, based on how other Apple silicon chips work, though specifics aren't yet known.
Release Date
The ‌Mac Pro‌ is expected at some point in 2023, according to Bloomberg's Mark Gurman. A launch will likely happen in the first half of the year, perhaps at WWDC in June. A spring media event had also been viewed as a possibility, but that appears unlikely at this point.
Apple is currently testing one of the new ‌Mac Pro‌ models, and it is running macOS Ventura 13.3, an updated version of ‌macOS Ventura‌ coming out later this year. Timing wise, ‌macOS Ventura‌ 13.3 is expected to come out around March or April, so we could also see the ‌Mac Pro‌ launch in this timeframe without a formal unveiling at WWDC.