Six Months of Free Apple Music Available to PlayStation 5 Owners
As part of an effort to promote Apple Music on the PlayStation, Apple is offering PlayStation 5 owners up to six months of free access to the ‌Apple Music‌ streaming service.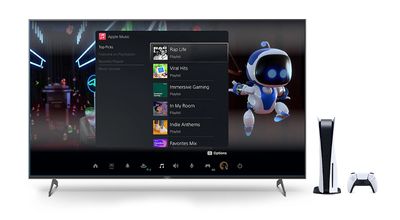 PlayStation 5 owners will need to sign into the PlayStation Network, download the ‌Apple Music‌ app, and follow the on-screen instructions to accept the offer. Users will need to sign in with an Apple ID or create one.
The PlayStation website suggests that gamers use ‌Apple Music‌ to create a personalized gaming playlist to listen to before, during, and after gameplay sessions.
The ‌Apple Music‌ promotion is only available on the PlayStation 5, and it has to be redeemed on a PlayStation 5 console. Only new and qualified returning subscribers to ‌Apple Music‌ can get free access, so this is not a deal that is available to current subscribers. New subscribers will receive six months of ‌Apple Music‌, while returning subscribers will get five months.
Apple will be offering the deal until 11/15/24. After the six-month period expires, a subscription can be continued for $10.99 per month.