iMessage Contact Key Verification Added in iOS 17.2 and macOS Sonoma 14.2 Betas
In addition to the new Journal app, the iOS 17.2 and macOS 14.2 updates add support for iMessage Contact Key Verification, a feature that Apple first previewed in December of last year.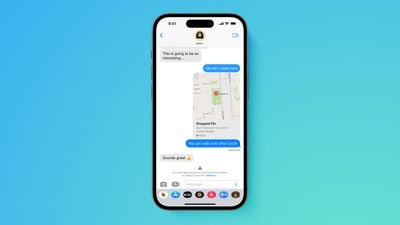 Designed for those who face "extraordinary digital threats," such as journalists, human rights activists, and government officials, iMessage Contact Key Verification allows people to verify the identify of the person they're corresponding with. It is available today in the iOS 17.2, iPadOS 17.2, macOS Sonoma 14.2, and watchOS 10.2 betas.
iPhone, iPad, or Mac users who have iMessage Contact Key Verification enabled will be notified if a malicious entity somehow succeeds in breaching cloud data servers and is able to eavesdrop on a conversation.
The feature also includes a Contact Verification Code that can be used in person or on FaceTime.

With iMessage Contact Key Verification, users can choose to further verify that they are messaging only with the people they intend. Contact Key Verification uses Key Transparency to enable automatic verification that the iMessage key distribution service returns device keys that have been logged to a verifiable and auditable map. When a user enables Contact Key Verification, they will be notified about any validation errors directly in the Messages conversation transcript and Apple ID Settings.

For even higher security, iMessage contact key verification users can compare a Contact Verification Code in person, on FaceTime, or through another secure call. They can also choose to create or edit a contact and save a public key to turn on CKV with that person.
To use iMessage Contact Key Verification, all devices signed into an iCloud account must have the iOS 17.2 beta, macOS 17.2 beta, and/or watchOS 10.2 beta.