Apple Rumored to Follow ChatGPT With Generative AI Features on iPhone as Soon as iOS 18
Apple plans to start implementing generative AI technology on the iPhone and iPad in late 2024 at the earliest, according to Jeff Pu, an analyst who covers Apple's supply chain for Hong Kong-based investment firm Haitong International Securities.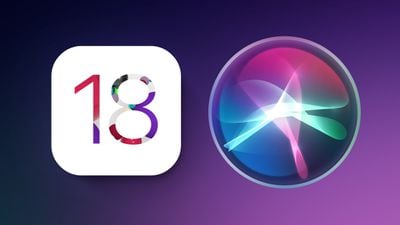 In a research note on Wednesday, Pu said his supply chain checks suggest that Apple is likely to build a few hundred AI servers in 2023, and significantly more next year. He believes Apple will offer a combination of cloud-based AI and so-called "edge AI," which involves more on-device data processing. He added that patience will be required with Apple's rollout of generative AI, as the company considers how to use and process personal data in a way that aligns with its commitment to customer privacy.
If met, the late 2024 timeframe would mean that Apple could begin rolling out generative AI features starting with iOS 18 and iPadOS 18, but it remains to be seen how it uses the technology. The Information last month reported that Apple plans to incorporate large language models into Siri to let users automate complex tasks, a feature that would involve deeper integration with the Shortcuts app. The report said this feature is expected to be released in an iPhone software update next year, so it could be part of iOS 18.
In August, supply chain analyst Ming-Chi Kuo said Apple's generative AI efforts were "significantly behind its competitors," so it's unclear if the late 2024 timeframe is realistic. It is possible the technology will not be ready until 2025 and onwards.
Generative AI surged in popularity last year when OpenAI released ChatGPT, a chatbot that can respond to questions and other prompts. Google and Microsoft released similar chatbots earlier this year, as more companies race into the space. The chatbots are trained on large language models, allowing them to respond like a human.
In July, Bloomberg's Mark Gurman said Apple was internally testing a "ChatGPT-like" chatbot nicknamed "Apple GPT," but he said the company had yet to "devise a clear strategy" for releasing generative AI tools to the public.
Apple has publicly confirmed its interest in generative AI, and it has mentioned the technology in job listings posted on its website in recent months.
"We've been working on generative AI for years and have done a lot of research," said Apple CEO Tim Cook, in an interview with Forbes last month. "And we're going to approach it really thoughtfully and think about it deeply, because we're fully aware of the not-good uses that it can have, and the issues around bias and hallucination and so forth."