Latest macOS Sonoma Beta Adds 100+ New Video Wallpapers and Screensavers
With macOS Sonoma, Apple is introducing aerial wallpapers and screensavers that are similar to the aerial screensavers available on the Apple TV. In the latest macOS Sonoma beta that came out today, there are more than 100 new options to choose from.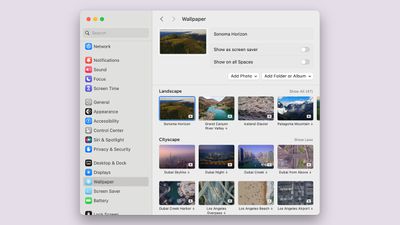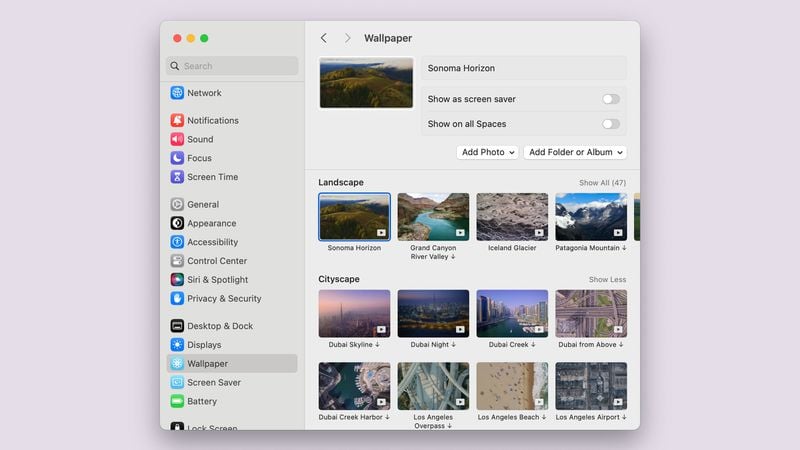 Many of the videos are taken directly from tvOS, and they are organized into categories that include Landscape, Cityscape, Underwater, and Earth. Prior to today, there were a handful of options in each category, but now there are dozens. Apple offers 47 landscape videos, including some that feature the Sonoma region of California that ‌macOS Sonoma‌ is named after, and 30 cityscapes.


There are 21 underwater videos and 22 earth videos, along with options to shuffle through all the aerial videos or to select shuffle from the specific categories. Apple also has range of animated "Picture" videos that have more abstract art and that were not sourced from the ‌Apple TV‌ aerial videos, but these are not new to this beta.
Scenes feature locations all across the globe, captured with drones, underwater cameras, and from the International Space Station. If you've seen the aerial videos on the ‌Apple TV‌, you will already be familiar with many of the options on ‌macOS Sonoma‌.
In ‌macOS Sonoma‌, the video screensavers work like they do on the ‌Apple TV‌, but when a Mac is woken from sleep, the screensaver slows down and seamlessly becomes a still image on the desktop when you log in. The login screen also animates with one of these options selected.