Future Apple Watch Sensors May Match Watch Face Color to Your Band and Clothes
Apple is considering adding color sampling sensors to future Apple Watch models that would allow watch faces to match the color of the user's band and clothing (via Apple Insider).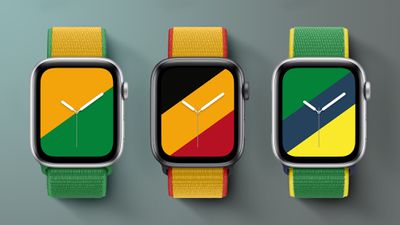 In a patent this week granted by the U.S. Patent and Trademark Office, titled "Electronic Devices with Color Sampling Sensors," Apple describes how light sensors under the Apple Watch display could measure the color of external objects, with the aim of matching the background of the currently displayed watch face with the color of the wearer's clothing and band choice.
The patent explains how an optical sensor such as a camera, proximity sensor, ambient light sensor, fingerprint sensor, or other light-based under-screen sensor could sample colors by emitting a sequence of red, green, and blue light towards an external object placed in its line of sight and measuring the RGB reflectance levels.
Control circuitry in the watch would then apply a band-specific algorithm to the color sample and match it with a predetermined list of watch band colors, while a clothing-specific algorithm would match the clothing within a specific color gamut.
After applying constraints to possible display colors, the control circuitry would mimic the sampled color on the Apple Watch face background, for a desirable uniform look.
As with any filed patent, the technology it describes is unlikely to launch in an Apple Watch anytime in the near future, if at all, but it does offer an interesting look at how Apple is exploring ways to make its flagship smartwatch a more color-coordinated timepiece as well as a health and fitness device.
Apple is continually researching ways to extend the range of sensors in the Apple Watch, which already includes heart rate tracking, irregular heart rhythm notifications, the ECG app, blood oxygen measuring, fall detection, and more.
In 2020, CEO Tim Cook said Apple is still "in the early innings" with the device, noting that the company is testing "mind blowing" capabilities in its labs, although not everything will see the light of day. "Think about the amount of sensors in your car," said Cook, adding "and arguably, your body is much more important than your car."
In February, Bloomberg's Mark Gurman reported that Apple has made major progress with its noninvasive blood glucose monitoring technology, allowing diabetics and others to test their blood glucose levels without needing to prick the skin for blood testing. However, it is still said to be several years away from being introduced in a future Apple Watch model.