iPhone 15 Pro and Pro Max Supplies Could Be Constrained at Launch Due to Display Manufacturing Issues
Apple is running into difficulties with iPhone 15 Pro and ‌iPhone 15 Pro‌ Max display manufacturing, which could lead to a limited number of devices being available at launch in September.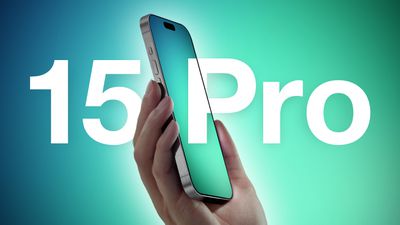 Rumors have suggested that the ‌iPhone 15 Pro‌ and ‌iPhone 15 Pro‌ Max will have slimmer bezels than the iPhone 14 Pro models, and it is this decrease in bezel size that is creating issues.
According to The Information, Apple suppliers are using a new display manufacturing process to shrink the bezel size, and it is causing problems with displays made by LG Display. Apple had a similar problem with the Apple Watch Series 7 display size increase in 2019, and that device was delayed by about a month.
The LG displays are failing reliability tests during a process where the display is fused to the metal shell. Apple is tweaking the design of the LG display so it can pass the tests, and it still has displays from Samsung that it can use for assembly.
The Information does not believe that Apple will delay the launch of the ‌iPhone 15 Pro‌ and ‌iPhone 15 Pro‌ Max, but will instead have fewer units available at launch, leading to shortages. The manufacturing issue will hit the ‌iPhone 15 Pro‌ Max the hardest, and it sounds like it will be the device that will be most difficult to get at launch.
It is not unusual for at least one iPhone model to be in short supply, and there have been launch situations where the ‌iPhone‌ models sell out entirely and people are left waiting for months for Apple to ramp up production and meet demand. In this situation, Apple will likely see its profit margins impacted and its holiday quarter revenue lower than expected.
Earlier today, a report from Bank of America global securities analyst Wamsi Mohan suggested that Apple's iPhone 15 devices could be delayed by a "few weeks," but he did not provide a reason for the delay. It sounds like he heard hints of the display manufacturing issue and figured it would lead to a delayed October launch, but The Information thinks Apple will still launch in September as expected.
The Information claims that the ‌iPhone 15 Pro‌ models are now at the "risk ramp" manufacturing stage at Foxconn, with the company testing how reliably the devices can be built without defects. Mass production is expected to begin in August.