Apple Planning New Rapid Security Responses for iPhone, iPad, and Mac to Address Website Loading Issue
In a support document published today, Apple said it is aware of an issue where the recently released Rapid Security Responses for iOS 16.5.1, iPadOS 16.5.1, and macOS 13.4.1 might prevent some websites from displaying properly.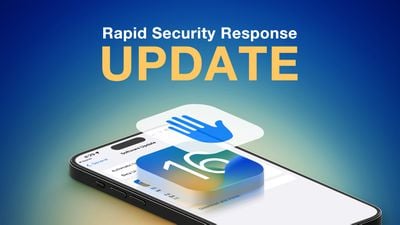 The affected Rapid Security Responses are labeled as iOS 16.5.1 (a), iPadOS 16.5.1 (a), and macOS 13.4.1 (a). Apple said new Rapid Security Responses with a (b) suffix will be available soon to address this issue. Users who do not wish to wait have the option to uninstall the (a) versions by following the steps outlined by Apple below.
iPhone or iPad: Open Settings > About > iOS Version, then tap "Remove Security Response." Tap Remove to confirm.

Mac: Choose the Apple menu > About this Mac, then click More Information. Under macOS, click the Info (i) button next to the version number. Click Remove and Restart, then click to confirm.
Rapid Security Responses are designed to provide iPhone, iPad, and Mac users with security fixes without the need to install a full software update. The updates released yesterday addressed an actively exploited WebKit vulnerability, but some users who installed the updates were subsequently unable to load some websites.
(Via: Mr. Macintosh)