Nanoleaf Debuts 4D Lightstrip Kit and Ultra Black Hexagons
Nanoleaf today announced the launch of preorders for several new products, including new light panels and the 4D Screen Mirroring and Lightstrip Kit that it announced at CES.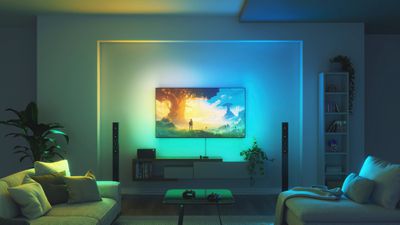 The Nanoleaf 4D is a lightstrip and camera setup that is designed to provide backlighting for your TV or display that matches the content on the screen. There is a Nanoleaf Lightstrip that attaches to the back of a TV set, paired with a camera that is pointed at the screen to detect the colors.
The camera is able to capture the different shades on the display, syncing them in real-time to the gradient lightstrip behind it. Nanoleaf says that this setup is meant to provide a "true 4D effect" that extends content beyond the TV. The camera does not record footage and is used solely for color syncing, plus there is a privacy cover for those who are concerned.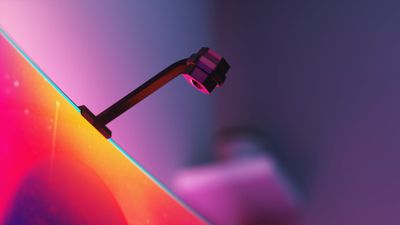 There are four mirror modes from a subtle ambient glow to a direct match to the TV screen, and the Screen Mirror Modes can be combined with Rhythm Music Sync to mirror the colors on the screen while also reacting to soundtracks or in-game effects.
Nanoleaf's Sync+ feature allows the screen mirroring to work with the included lightstrip as well as other Nanoleaf lighting products for an "all-encompassing visual experience." Up to 50 Nanoleaf RGB devices can be connected, including Nanoleaf's light panels.
There's a Nanoleaf x Overwolf partnership for gamers that allows real-time lighting reactions synced to in-game events, with a customizable color palette available. The Overwolf functionality is available for titles that include Apex Legends, Call of Duty, and Dota, and it works across any Nanoleaf RGB setup. Overwolf can be set up with the Nanoleaf Desktop app starting today.
Nanoleaf today also announced the upcoming launch of the Ultra Black Shapes Hexagons, which are light panels that feature a 360-degree black finish to match darker decor. The Ultra Black Hexagons are identical to the standard Hexagons, but are black when powered off rather than white.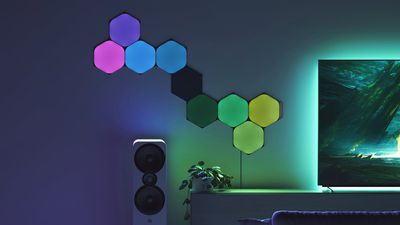 Both the Nanoleaf 4D and the Ultra Black Hexagons work with the Nanoleaf app or with HomeKit. Later this year, an over-the-air Matter update will launch to improve compatibility across smart home platforms.
The Nanoleaf 4D Screen Mirror and Lightstrip Kit can be preordered today from Nanoleaf. Two lengths are available, with the 65-inch lightstrip priced at $100, and the 85-inch lightstrip priced at $120. The camera is also available on a standalone basis for $80. The kits are expected to ship in mid-July, and customers who preorder by June 28 will receive a bonus $20 Nanoleaf gift card.
The Nanoleaf Ultra Black Hexagons are also available for preorder from Nanoleaf today, with a nine-piece kit priced at $220. Orders will ship out in late July.