Insta360 Announces New Tiny Action Camera
Insta360, known for its range of 360-degree cameras that connect to smartphones, today announced the launch of the Insta360 GO 3. The Insta360 GO 3 is the latest version of Insta360's small, portable action camera.
The camera is smaller than thumb size, weighing in at 1.2 ounces. It features a magnetic body that allows it to be mounted in a range of places, and there are several magnetic accessories. The Magnet Pendant can be worn around the neck for first-person POV filming, the Easy Clip can clip on to hats and other headworn accessories, and the Pivot Stand is a reusable sticky mount that also works with selfie sticks and tripods.
Insta360's GO 3 captures 2.7K video, which the company says is ideal for sharing on social media. The camera can be paired with an Action Pod hub that serves as a housing, remote control, and charger for the camera. The Pod offers up to 170 minutes of recording time, and there is a 2.2-inch flip touchscreen that offers real-time remote control and live preview for tough angles.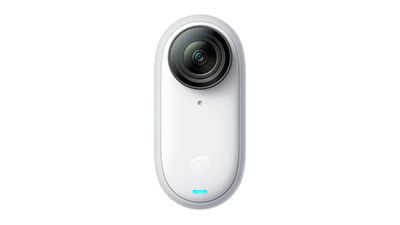 The Action Pod features an IPX4 water resistance rating, while the GO 3 has an IPX8 water resistant rating that works in water up to 16 feet deep. There are dual microphones for clearer audio than prior versions, and the camera can be controlled with voice commands.


FlowState Stabilization and 360 Horizon Lock have been built-in, and Insta360 says that these features ensure smooth footage and no unwanted tilting or distortion when action shots are being filmed.
The Insta360 GO 3 is available starting at $380 for 32GB of storage, and it can be purchased from the Insta360 website.