8 New Photo Features Coming to iPhone in iOS 17
Photography has become a staple use of the modern iPhone, and Apple isn't resting on its laurels in its efforts to advance what you can do with a photo in iOS 17.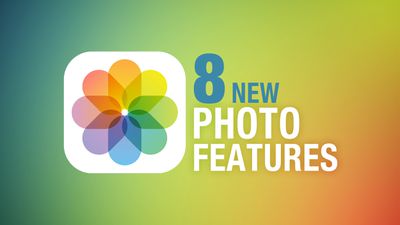 Below we've listed eight new photo-related features and improvements coming with Apple's latest mobile operating system, which is expected to get its official release in the fall. Can't wait until then? The iOS 17 beta is available now.

1. Pet Recognition
In ‌iOS 17‌, Apple has improved the image recognition capabilities of the Photos app, which can now recognize not only your family and friends, but also your beloved pets.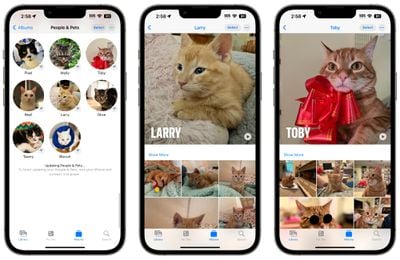 The ‌‌Photos‌‌ app's ability to detect animals isn't new, but now it can identify animals that are important to you by taking into account the number of photos that you have of them. That's why the "People" album has become the "People and Pets" album, where you can add the names of your pets and confirm additional photos.

2. One-Tap Crop
In iOS 16, cropping images in the ‌Photos‌ app involves tapping into the Edit interface, choosing the crop tool, and adjusting the crop from there with either pinch zoom gestures or by dragging the corners of the cropping tool.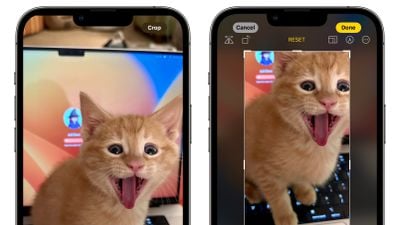 In ‌iOS 17‌, Apple has made the process quicker and easier. Now when you zoom into an image, there's a new "Crop" button that appears in the upper right. Tapping it brings up the crop interface with the zoom level that you've selected, so you can crop into the part of the image that you prefer with just a couple of taps.

3. Turn Photos into Animated Stickers
In iOS 16, Apple added a neat "remove subject from background" tool for plucking things out of images. In ‌iOS 17‌, Apple has supercharged the feature, and now you can use it to make your own custom animated stickers for use in Messages.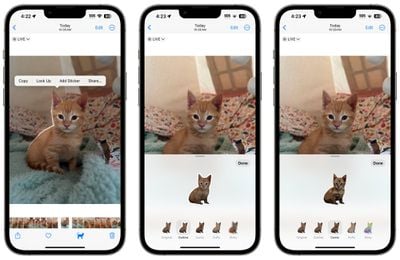 When long-pressing a subject in a photo, the pop-up menu includes a new "Add Sticker" option that exports the selected subject into Messages' sticker interface. From there, you can add effects like a white sticker outline, a "puffy" sticker effect, a glittery effect, and more. Subjects pulled from Live Photos even have the option of animating.

4. Get Recipes for Food
When viewing your photos, Apple has enhanced Visual Look Up in ‌iOS 17‌ in a few ways, one being the ability to find recipes for similar dishes when meals are recognized in the picture.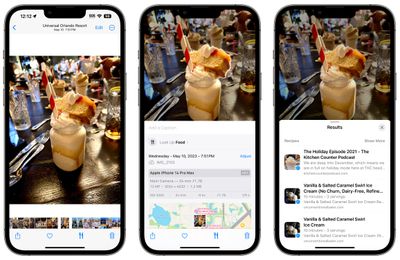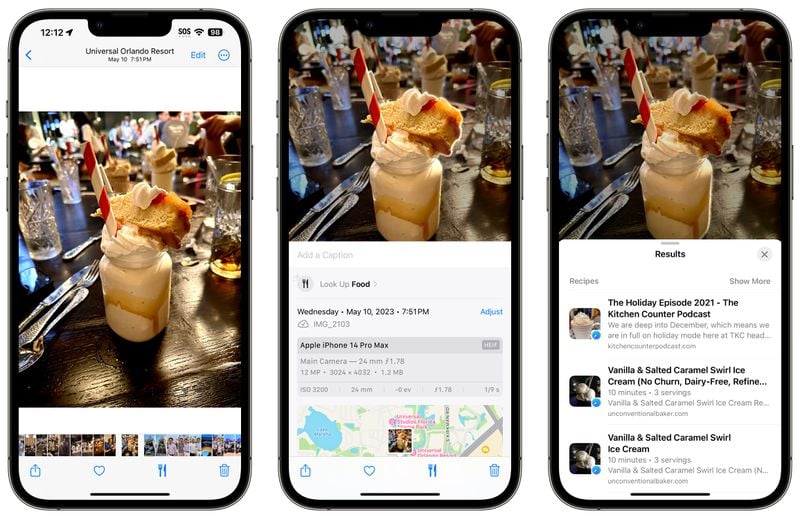 When an image of food is identified in the ‌Photos‌ app, a knife and fork icon appears at the bottom of the interface. The Look Up Food option gives you direct links to recipe websites, so now you can get inspiration about what to cook, without having to trawl the web yourself in Safari.

5. Straighten Your Shooting Angle
For the last few years, the Camera app's Grid mode has included a somewhat-hidden leveling feature for top-down photos, popping up a floating crosshair to help make sure you're lined up properly above your subject.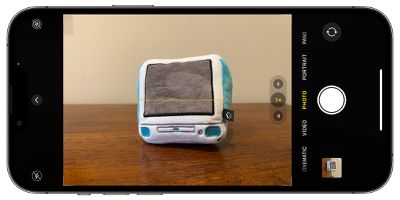 In ‌iOS 17‌, Apple has enhanced the camera leveling functionality, separating it out from the Grid mode to its own option and expanding it to include a horizontal level for more traditional straight-on photos.
The Level option displays a broken horizontal line on the screen when your ‌iPhone‌ senses you're lining up for a straight-on shot and you tilt your device slightly out of horizontal. The line appears white while your phone is out of level and then turns yellow once you achieve a level orientation to indicate success.

6. Look Up What You Just Lifted
In ‌iOS 17‌, when you use the "remove subject from background" tool, you can now look up information about the subject in question, thanks to a new option in the popup menu.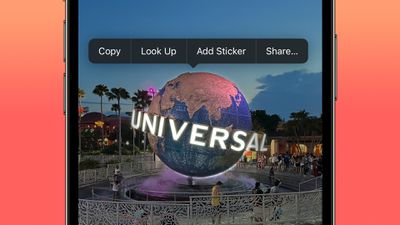 Not only that, the ‌Photos‌ app now also offers the ability to pause video on any frame and look up information on a subject.

7. Visual Look Up for Auto Symbols
Apple hasn't publicly promoted this feature, but Reddit users digging into the ‌iOS 17‌ beta have discovered that Visual Look Up can now detect car symbols on vehicle dashboards.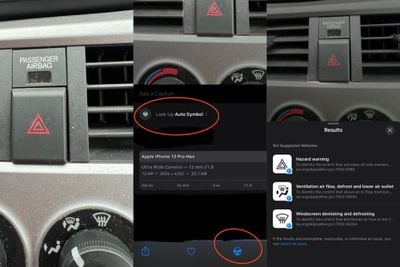 When the ‌Photos‌ app identifies one or more symbols in an image, ‌iOS 17‌ presents the name of the icon and a short description of its meaning, and offers up links to learn more about each symbol in Safari.
8. Tweaked Editing Tools Interface
Lastly, Apple in ‌iOS 17‌ has made some quality of life improvements to the ‌Photos‌ app editing interface to make it a little more intuitive. The Cancel and Done buttons have been moved from the bottom of the screen to the top, and the tool icons have been given text descriptions to make their function clearer.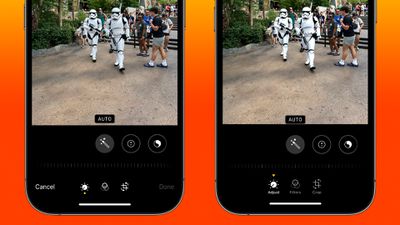 ‌Photos‌ app editing UI in iOS 16 (left) vs ‌iOS 17‌
In order to make it more obvious whether Adjust, Filters, or Crop is currently selected, Apple has also changed the indicator from a yellow circle beneath the active icon, to a triangle pointing down at it from above.