iPhone's Screen Distance Feature on iOS 17 Can Help Reduce Eye Strain
iOS 17 and iPadOS 17 include a new Screen Distance feature that can alert you when you hold an iPhone or iPad too close to your eyes for an extended period. Apple says the opt-in feature is designed to help lower the risk of nearsightedness in children by encouraging healthy viewing habits, and can help reduce eye strain overall.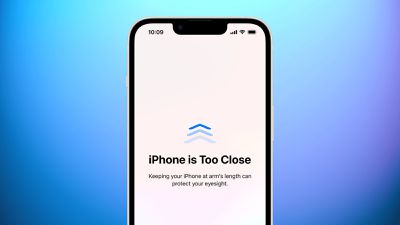 Screen Distance can be turned on in the Settings app under Screen Time → Screen Distance, and is available on all iPhone and iPad Pro models with Face ID. The feature uses the same TrueDepth camera that powers Face ID to measure the distance between the screen and your eyes, and a full-screen alert prompts users to move their device farther away after holding it closer than 12 inches to their eyes for an extended period.
When the feature is enabled, users will receive an "iPhone is Too Close" warning as necessary. After the iPhone is moved to a safe distance, a checkmark will appear on the screen, and users can tap the "Continue" button to proceed.
iOS 17 and iPadOS 17 will be released later this year, and are currently available in beta for users with an Apple developer account. Devices compatible with Screen Distance include the iPhone XS and newer, and 11-inch and 12.9-inch iPad Pro models released in 2018 and later. The feature can be turned on or off at any time.