Apple Highlights Vision Pro's Accessibility Features with Head, Wrist, and Index Finger Controls
Apple's new Vision Pro headset is controlled with eye and hand movements by default. For those with accessibility needs, however, features like VoiceOver, Pointer Control, and Dwell Control will allow users to interact with visionOS in other ways. In a WWDC session for developers, Apple has provided more details about these features.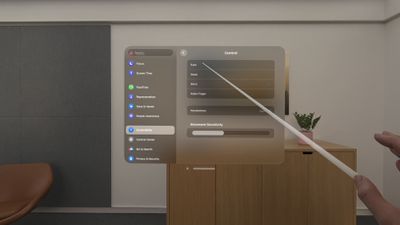 Pointer Control
Pointer Control
will allow the Vision Pro to be controlled based on head, wrist, or index finger position rather than eye tracking. Users will be able to adjust movement sensitivity to further fit their individual needs.
Dwell Control will provide on-screen options for Tap, Scroll, Long Press, and Drag, allowing for users to interact with the interface without using their hands.

Dwell Control
There's also
Guided Access
, an accessibility feature that will promote focus by restricting visionOS to a single app at one time. Apple says the feature aims to minimize distractions by backgrounding other apps, removing non-essential UI elements, and suppressing hardware button events that could be distracting.

Guided Access
Apple's screen reader
VoiceOver
will be available on the Vision Pro. Users will be able to set up a VoiceOver shortcut in the Settings app on visionOS that allows for the feature to be activated with a triple press of the Digital Crown.
Vision Pro is launching in early 2024 in the U.S. for $3,499, and more details about the headset are available in our Vision Pro roundup. For more details about the accessibility features, check out Apple's WWDC session.