Check Signed by Steve Jobs Sells for Over $100k at Auction
An Apple Computer Company check signed by Steve Jobs sold for $106,985 through an auction hosted by RR Auction. The check was filled out and signed by Jobs in 1976, and it was made out to Crampton, Remke, & Miller, INC, a consulting firm that offered its services to tech companies in Northern California.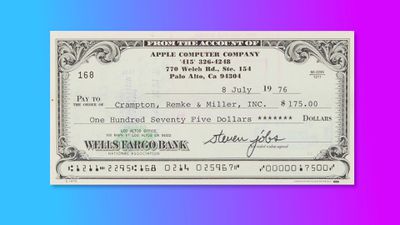 Jobs' check is notable because it uses the first Apple address at 770 Welch Rd., Ste. 154, Palo Alto. This was the address of an answering service that Jobs and Wozniak used while working out of the Jobs family garage.
RR Auction VP Bobby Livingston said that early checks like this are desired because "they not only tell Apple's founding story, they are signed with perfect examples of Steve Jobs's autograph," plus they "allay collectors' concerns about the authenticity of Steve Jobs's signature."
Another early check signed by Steve Jobs and Steve Wozniak was auctioned off in 2022, and that check sold for $164,000.