iPhones Made Up Nearly Half of All Refurbished Smartphone Sales in 2022
Apple's sales of refurbished iPhones saw double-digit growth in 2022, further solidifying its dominance in the global market for returned and repackaged smartphones.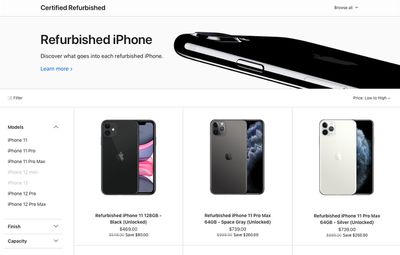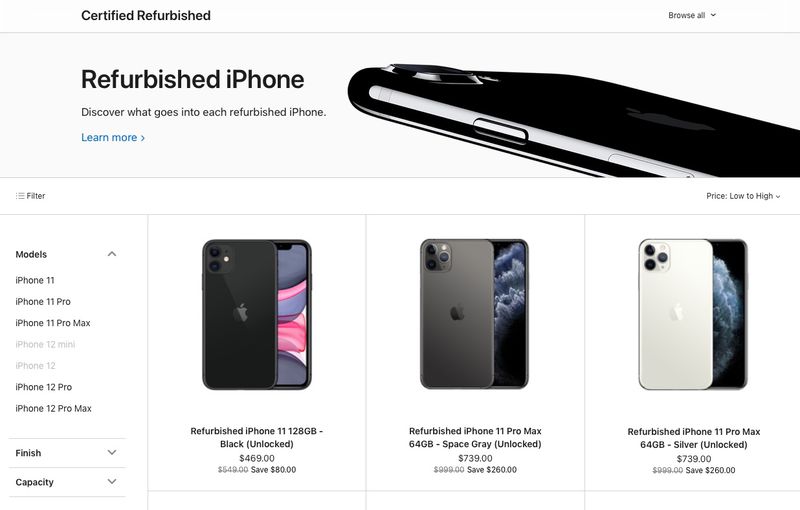 According to Counterpoint Research (via DigiTimes), Apple's refurbished sales grew by 16%, earning it a 49% share of the market last year, up from 44% in 2021. While Apple controlled almost half of the market, Samsung was a distant second with a 26% share, down from 28% the previous year.
India became the largest refurbished smartphone market in 2022, due to China experiencing a 17% decline in refurbished phone sales in the same year, according to the market tracker. Most emerging markets saw limited supply of refurbished devices with consumers reportedly holding on to new smartphones for longer.
Apple outfits all refurbished iPhone models with new batteries, outer shells, and a fresh USB-C to Lightning cable, so they are essentially identical to new in the box iPhones. Refurbished iPhones from Apple are also unlocked and can be used with any carrier.
Continuing popularity for refurbished iPhones is also partly down to Apple's warranty policy that includes a full one year of AppleCare+ covering batteries and outer shell repairs, as well as the option to purchase extended ‌AppleCare‌+ coverage.
In general, global smartphone sales were impacted in 2022 by rising component prices and unusually high inflation, which led to a higher demand for lower priced, refurbished models across the market, according to Counterpoint. However, IDC suggests that interest in refurbished phones may turn out to be a long-term trend over the next few years thanks to trade-in programs and device premiumization.