Apple Now Testing iOS 16.4.1 for iPhone With Bug Fixes Expected
Following a rumor that iOS 16.4.1 is in the works, we can now independently confirm that Apple is testing the software update internally. It's unclear when the update will be released, but it will likely be available within the next week or two.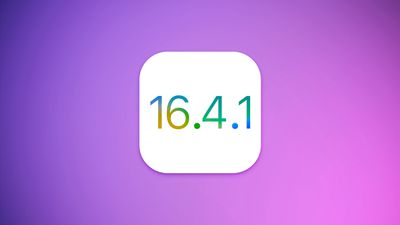 Like other minor updates, iOS 16.4.1 will likely be focused on bug fixes and/or security patches. Since iOS 16.4 was released last week, some iPhone users have complained about being forced to re-enter Wi-Fi passwords occasionally, and various user interface glitches. Some users continue to complain about Weather app data failing to display too, despite Apple's system status page indicating that issue is now resolved.
iOS 16.4.1 will be a stopgap until iOS 16.5 is released around May. Apple seeded the first beta of iOS 16.5 last week with a few minor changes, including a Sports tab in the Apple News app and the ability to start a screen recording with Siri.
Apple is expected to announce iOS 17 during the WWDC 2023 keynote on June 5, so the iOS 16 software cycle is nearing its completion.