Dark Noise Now Free With $3/Month Subscription Upgrade Option for New Users
Dark Noise today announced it has switched to a subscription pricing model on the iPhone, iPad, and Mac. The popular white noise app was previously available as a one-time purchase for $9.99, but the full version now costs $2.99 per month or $19.99 per year for new users. A one-time purchase option remains available for $49.99 for new users.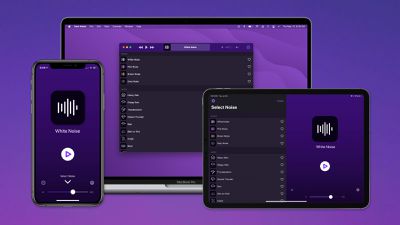 The bad news is that the full version of Dark Noise is now considerably more expensive for new users, but the good news is that the app is now available for free on the App Store, with eight sounds now available without charge. Another bit of good news is that existing Dark Noise users who purchased the app before the version 3.0 update released today retain access to the full app with over 50 sounds without a Dark Noise Pro subscription.
"There may be features in the future that require Dark Noise Pro, but for now original users will get all of the same features," says Dark Noise's announcement. New users can try out the Pro tier with a free three-day trial.
The updated Dark Noise app includes four stereo remasters of existing sounds: Rain, Thunderstorm, Beach, and Airplane Interior. Dark Noise said future updates will include additional remasters, as well as an increasing variety of sounds.
Apple introduced a similar Background Sounds feature in iOS 15 and macOS Ventura. Available in the Settings app under Accessibility → Audio/Visual → Background Sounds, the feature allows you to play rain sounds and a selection of other ambient sounds for free. White noise can help some people to relax, sleep, or stay focused on a task.